Kershaw loses, but Dodgers inch closer to clinch
Kershaw loses, but Dodgers inch closer to clinch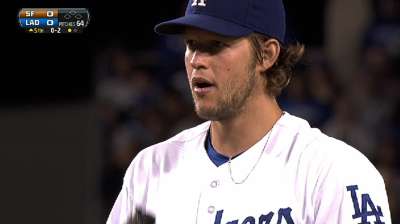 LOS ANGELES -- Clayton Kershaw shouldered the blame after the Dodgers lost to the Giants, 4-2, on Friday night.
After Juan Uribe hit a two-run homer off San Francisco starter Madison Bumgarner to break a scoreless tie in the sixth inning, Kershaw allowed three runs on four consecutive singles to open the seventh.
The Dodgers had runners in scoring position in each of the final three innings, but couldn't come through with a clutch hit to pick up their starter and dropped to 3-6 in their last nine games.
"It was my fault," Kershaw said. "Against a good pitcher like Bumgarner, if you get two runs you've got to make it hold up and I didn't do that today."
Despite the loss, the Dodgers saw their magic number to win the National League West shrink to four because the D-backs fell at home to the Rockies. Los Angeles could still clinch its first division title in four years Sunday.
"It should have been three," Kershaw said. "That's unfortunate on my part. Hopefully we can close it out here pretty soon."
Kershaw leads the Major Leagues with a 1.94 ERA, but he's 14-9 in 31 starts this season. The Dodgers are 17-14 when the left-hander gets the ball and have lost three of his last four outings, scoring two runs in each of those last three defeats.
The Giants didn't exactly rough up Kershaw while racking up four straight singles in the seventh, though, and only two balls were hit hard.
"I made a couple mistakes and they found a couple holes," said Kershaw, who struck out six and walked none. "Give them some credit, they came right back. They battled me all night. It was my fault. I've got to make the lead stand up."
While Kershaw did not get the outcome he wanted, he threw the ball better than he did in his past three starts.
"It definitely felt really good," he said. "I felt like I was ahead of hitters all night long. I felt like I was better. They just found some holes and battled me and got some big hits when they needed to."
Bumgarner knew he would have to bring his best stuff against Kershaw, who entered the game unbeaten in four starts against San Francisco this year with a 1.13 ERA.
"Anytime you're behind somebody like him, you don't have too good of a chance," Bumgarner said.
Aside from Uribe's homer, Bumgarner effectively contained a Dodgers lineup that did not feature Carl Crawford, Adrian Gonzalez and Hanley Ramirez. He scattered five hits in six innings, striking out six against two walks. In 12 career games against the Dodgers, Bumgarner is 8-3 with a 2.58 ERA.
"He's always tough," said Dodgers manager Don Mattingly.
The Dodgers did have their chances after Bumgarner came out of the game for a pinch-hitter in the seventh. Gonzalez pinch-hit in the bottom of the frame, but struck out with runners on the corners to end the inning.
The Giants added an insurance run in the eighth as Hunter Pence homered off rookie reliever Chris Withrow. Pence also went yard against Zack Greinke on Thursday.
Gonzalez came to the plate representing the tying run with two out in the ninth. The Dodgers' leader in RBIs hit a comebacker that bounced off the right foot of Giants closer Sergio Romo and caromed to third baseman Joaquin Arias, who fired across the diamond to record the final out and silence another sellout crowd at Dodger Stadium.
As Kershaw put it, "the breaks didn't go our way today."
The Dodgers are a little banged up heading into the final two weeks of the season, with Ramirez dealing with nerve irritation in his back and Andre Ethier day to day after aggravating a sprained left ankle running out a double in the eighth inning. That's why Kershaw would like to see his team clinch a postseason spot as soon as possible.
"We just need to clinch and from there we can figure out the best way to rest guys and all that stuff," Kershaw said. "I'd really like to just have that peace of mind that we've clinched because anything can happen."
Of course, the Dodgers are tied with the Cardinals for the second-best record in the league and Ethier doesn't want the club to coast into October and risk losing home-field advantage.
"The home-field advantage is important," Ethier said. "We need to go out and get that. Just because you clinch, if there's another thing out there you get it."
Austin Laymance is an associate reporter for MLB.com. This story was not subject to the approval of Major League Baseball or its clubs.