Giants solve Kershaw to get win for MadBum
Giants solve Kershaw to get win for MadBum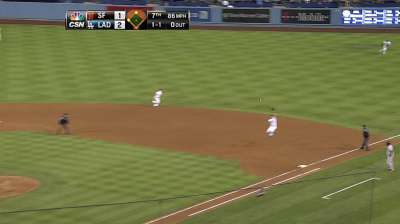 LOS ANGELES -- Friday night's postgame fireworks were a Dodgers promotional tool. The display should have been launched in honor of the Giants.
The reigning World Series champions enjoyed a monumental moment in this most modest of seasons. In outlasting Los Angeles, 4-2, the Giants defeated not only the Dodgers but also their chief nemesis, left-hander Clayton Kershaw. Better still, San Francisco manufactured a victory for Madison Bumgarner, who has been denied multiple triumphs by poor run support.
"I'm happy for Bum, more than anything," Giants manager Bruce Bochy said. "He's had some tough luck lately."
Bumgarner (12-9) improved to 9-1 when the Giants score at least four runs behind him, reflecting his consistency. He has yielded three earned runs or fewer in 18 consecutive starts. The mini-rash of scoring might have seemed like an embarrassment of riches for Bumgarner, who ended a winless streak of seven starts. Illustrating the scant offense he has received, Bumgarner entered the game with a 2.42 ERA since the All-Star break yet was 1-4 in 10 outings.
This time, however, Hunter Pence homered in the eighth inning and singled to launch a three-run, seventh-inning uprising that subdued Kershaw, who surrendered more than two runs to the Giants for only the third time in 22 games. Until San Francisco rallied, it appeared that ex-Giant Juan Uribe's two-run homer in Bumgarner's sixth and final inning would be enough to propel the Dodgers to victory.
"The breaks didn't go our way today. It was my fault," said Kershaw (14-9).
A leading candidate to win the National League Cy Young Award, Kershaw spoke of Bumgarner the way most opponents refer to him.
"Against a good pitcher like Bumgarner," Kershaw said, "if you get two runs, you've got to make it hold up and I didn't do that today."
Through five innings, each team mustered three hits in a scoreless tie as Bumgarner and Kershaw engaged in a marvelous pitching confrontation. Bumgarner demonstrated his effectiveness vividly against Dodgers super-rookie Yasiel Puig, who struck out once and broke his bat on a popup while going 0-for-3 off the left-hander.
The taut contest suddenly unraveled with Uribe's homer. But left fielder Juan Perez renewed the Giants' spirit and ended the sixth by outrunning A.J. Ellis' extra-base bid to make a remarkable lunging grab at the warning track.
"We know he's an unbelievable outfielder," Bumgarner said. "I'm always optimistic they're going to catch all of them."
Then the Giants staged their version of Singles Night by collecting four consecutive hits off Kershaw to inch ahead. Pence's leadoff roller scooted through the infield before Pablo Sandoval stroked his second single of the evening. Joaquin Arias scored Pence when he found an opening in left-center field with his hit and reached second base as left fielder Scott Van Slyke bobbled the ball. Each of those hits came with two strikes before Brett Pill broke the streak by poking a 1-1 slider over first base. His soft but well-placed single chased home Sandoval and Arias.
"You know you're going to get at least one pitch to hit," Pill said. "My approach was just don't miss it."
Said Kershaw, "I made a couple mistakes and they found a couple holes. Give them some credit, they came right back. They battled me all night. It was my fault. I've got to make the lead stand up."
The Giants' lead appeared endangered as the Dodgers put runners on the corners with two outs in their half of the seventh. But right-hander Jean Machi struck out pinch-hitter Adrian Gonzalez to extinguish the threat.
Pence padded San Francisco's lead by guiding reliever Chris Withrow's 2-1 pitch into the right-field seats for his team-high 22nd homer of the season. It was an opportune feat for Pence, a potential free agent whose representatives have opened contract talks with the Giants, according to a San Francisco Chronicle report.
That didn't end the drama. Mark Ellis and Jerry Hairston singled off Sergio Romo to open the Dodgers' ninth. Up came Puig. In nearby Hollywood, a director might have said, "Cue the three-run, walk-off homer." But Romo had none of that and struck out Puig on a 2-2 slider.
"I was in one of those positions where if you're going to get beat, you're going to get beat with your best stuff," Romo said.
The Giants barely missed turning a double play on Nick Punto's slow roller to second base. Punto slid into first base safely, putting runners on the corners with two outs for Gonzalez -- who faced the same situation two innings earlier.
Gonzalez connected this time, smashing a comebacker off Romo's right foot. The ball caromed toward third baseman Arias, who threw out Gonzalez by a step.
Los Angeles still crept closer to securing the NL West title, as second-place Arizona fell to Colorado. The Dodgers' magic number dwindled to four, meaning they could still clinch as soon as Sunday.
The Giants' wall-to-wall effort pleased Bochy, whose team is striving to escape last place in the West.
"This time of year, you do find out about guys," he said. "Are they keeping up their intensity, or are they thinking about something else? They're fighting hard."
Chris Haft is a reporter for MLB.com. This story was not subject to the approval of Major League Baseball or its clubs.