Darvish takes tough-luck loss; Rangers fall 5 1/2 back
Darvish takes tough-luck loss; Rangers fall 5 1/2 back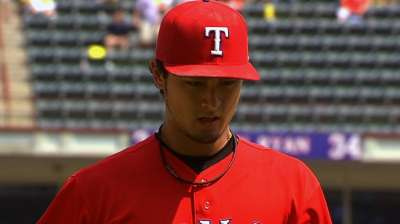 ARLINGTON -- Yu Darvish is now one of three American League pitchers to lose four 1-0 games in one season. Walter Johnson is another one, and now he is in the Hall of Fame.
"I have something to look forward to," said Darvish.
There weren't too many other signs of hope on Saturday afternoon at the Ballpark in Arlington, as the Rangers continue to fade from view in the AL West title race. The Rangers are tied with the Rays for the top AL Wild Card spot, but their hopes of a division title took another big hit with a 1-0 loss to the Athletics.
The Rangers have now lost five straight, and 11 of their last 14 games, to drop to 5 1/2 games behind the Athletics in the AL West. The Rangers have 15 games left, including one more against the Athletics on Sunday afternoon.
"Every game right now is a must-win situation," said shortstop Elvis Andrus. "That's the way we have to face it right now and not take anything for granted. We have to keep fighting and take care of business."
"We're not happy," said third baseman Adrian Beltre. "We had an opportunity against the team we wanted to play, and we're not doing enough to win. We didn't expect to be in this situation, but we're trying to find ways to get out of it. ... [If we can] find one hole or anything that can help us win games, we'll take it. The effort is there, but we're not getting results."
The Rangers were shut down by Bartolo Colon, who held them scoreless over eight innings on seven hits and a walk, while striking out seven. He is now 20-8 with a 3.47 ERA in 33 career starts against the Rangers, setting a new record for most wins against them by an opposing pitcher.
The Rangers were 0-for-4 with runners in scoring position against Colon, who also had the best defensive play of the day. After Ian Kinsler singled with one out in the third, Elvis Andrus smashed a one-hop shot up the middle. Colon grabbed it and turned it into an inning-ending double play.
"I have no idea how he caught that ball," Andrus said. "He was lucky. We had a few good at-bats, but luck hasn't been on our side. Bartolo threw a great game, but, as an offense, we didn't do what we're supposed to do."
The Athletics have won 15 of their last 19 games, including four of five over the Rangers.
"For the last few years, they've really controlled the division," Athletics third baseman Josh Donaldson said. "Now, they're looking up at us, trying to catch us, right now. When you start beating these big-time guys, it really gives your offense a feeling that we can beat anybody."
Darvish was almost as good as Colon. But he walked one batter, and it cost him a run in the first inning and he ended up losing 1-0 for the second straight start, as well as the fourth time this season.
Darvish is now 0-4 with a 3.38 ERA in his last six starts, while the Rangers have averaged 1.8 runs per nine innings for him. He is also 5-8 despite a 2.71 ERA in his last 20 starts. The Rangers are 6-14 in those games.
"Obviously, as a pitcher, we can't control how many runs we score," Darvish said. "I can't go into the lineup. I respect those guys, they're trying to do their job."
Darvish started the game by striking out Coco Crisp, but then walked Donaldson. After Jed Lowrie struck out, Brandon Moss ripped a double into the right-field corner and Donaldson came around to score. That was it for the scoring on the afternoon, and Darvish is now 1-6 with a 4.30 ERA in seven career starts against the Athletics.
"It feels good to beat him," Athletics manager Bob Melvin said. "And we've beaten him a few times this year. This is the best stuff we've seen him have. He was pitching around his fastball a lot today, throwing a lot of breaking balls. With very good pitchers, you have to get to them early before they settle in. That was the case. We got to him in the first, then he did settle in."
The Rangers have now lost five straight games on this homestand, and have not had a lead in any of those games. They have also not hit a home run since they returned to the Ballpark, and they only had one extra-base hit on Saturday afternoon. With two out in the fifth, A.J. Pierzynski singled and Geovany Soto doubled.
That put runners on second and third, but Colon struck out Mitch Moreland on three pitches to end the inning.
T.R. Sullivan is a reporter for MLB.com. Read his blog, Postcards from Elysian Fields, and follow him on Twitter @Sullivan_Ranger. This story was not subject to the approval of Major League Baseball or its clubs.