A's hold off Rangers, extend AL West lead to 4 1/2
A's hold off Rangers, extend AL West lead to 4 1/2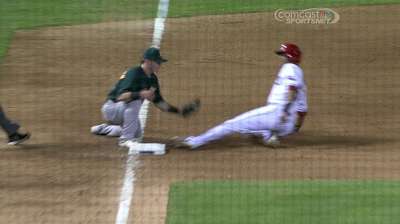 ARLINGTON -- The A's offense made yet another big statement on Friday night in a dramatic showdown with the Rangers at the Ballpark in Arlington. Then their bullpen nearly voided it and things took a turn for the wacky, but Oakland ultimately survived the rare late-inning meltdown for a 9-8 series-opening victory.
"You hear about all the crazy ballgames that are played here," said A's starter Dan Straily, "and now I've seen one firsthand."
A's relievers allowed six runs in the eighth inning, making a thriller out of what began as a laugher, a climactic September affair over four hours and nine minutes that ended with Oakland carrying a 4 1/2-game lead in the American League West with 15 to play.
Credit lefty Sean Doolittle with putting a stop to the madness, compiling a four-out save -- just the third save of his career -- and reliving it just minutes after game's end on television, enjoying the sight of Jurickson Profar freezing on a called third strike as much as he did when he threw it.
"This is what we've been working toward all season long, to be in the driver's seat in September," Doolittle said, "and be able to control our own destiny."
Oakland has won 14 of its last 18, while Texas has dropped 10 of 13. Suddenly, the tables have turned, with the Rangers now forced to play catch-up like the A's successfully did last year.
It won't be easy to do if the A's, now a season-best 25 games over .500, continue their bullying ways on offense, having scored 35 runs in their last 26 innings. Then again, the recipe doesn't seem all too sustainable if pitching woes resurface.
"If we learned anything from last year, it's that nothing's safe until we've played 162 games," Doolittle said. "Obviously we really like the position we're in right now, but we can't rest on that. If we learned anything from tonight and from last year, it's that they're gonna put some heat on us. They're a really good ballclub."
A's pitchers walked eight, with five coming around to score. Brett Anderson was responsible for two of them, issuing a pair of free passes to begin the eighth without getting an out before exiting with back spasms.
Jim Adduci's single off Jesse Chavez loaded the bases, and Leonys Martin capitalized on the opportunity with a two-out RBI single. Ryan Cook came on and walked Ian Kinsler to bring in a run, setting up Elvis Andrus' two-run base hit. Alex Rios followed with a two-run single of his own, but the inning was over when Rios was called out at third base on Yoenis Cespedes' throw from left, despite replays showing he appeared to be safe.
"That particular part of the game, there are a lot of emotions," said Rios. "We're making a comeback, we're fired up. ... To have a rally killed like that, it is disappointing."
Momentum shifted, the A's will gladly take it into Saturday's matinee, rather than the other way around.
"They did a really good job of putting together hits in the eighth inning, but I think at the end of the day, being able to get that win," Doolittle said, "that gives us a lot of confidence going into tomorrow."
"Our bullpen's been pretty fantastic all year," said Josh Donaldson. "I don't know what happened, but Texas did a good job, had good at-bats, but we ended up getting the win. Doolittle stepped up tonight ... and really got the job done for us."
It was a momentous save on a rollercoaster night.
In the early goings, an increasingly frustrated home crowd booed the Rangers, who managed just two hits through the first seven innings. At one point, chants of "Let's Go Oakland!" were heard, marking a backdrop to a relentless group of bats. The A's posted 14 hits, getting at least one from everyone in the lineup.
Lefty Derek Holland was responsible for allowing eight of them, leading to six runs in just three-plus innings, his shortest outing of the season.
The A's never let him get comfortable, getting a three-run homer from Cespedes in the first inning -- his career high-tying 23rd of the season -- and a third-inning solo shot from Donaldson, who added a two-run double in the fourth off Nick Tepesch for his eighth multi-hit performance over his last 16 games.
They're not the only ones hitting, though. Everyone is these days, with 89 hits totaled over the last seven games, and that's been the difference for a once-lethargic offense, making life a little easier on Oakland's pitching staff.
Derek Norris, acting as designated hitter, tallied three hits from the No. 8 spot, and catcher Kurt Suzuki, hitting ninth, reached base three times. Up above at the fifth hole, where Nate Freiman started the game, Brandon Moss launched his 27th homer in the sixth inning, a solo shot off Ross Wolf.
Straily endured some first-inning blues, allowing two runs on one hit while utilizing 33 pitches, before settling down to make it through 5 2/3, with just one other hit allowed.
"We probably could've added on a couple more," said manager Bob Melvin, "but at the end of the day, that's a hard-fought battle between two teams that were fighting all night. They didn't show any quit, and obviously in the ninth we didn't either."
Jane Lee is a reporter for MLB.com. This story was not subject to the approval of Major League Baseball or its clubs.