Mistakes cost Seattle in extras after Iwakuma's gem
Mistakes cost Seattle in extras after Iwakuma's gem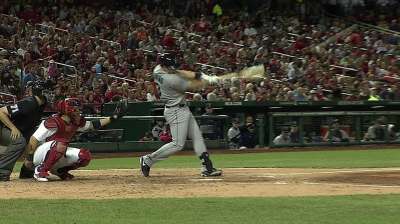 ST. LOUIS -- Mariners right-hander Hisashi Iwakuma outdueled Cardinals standout Adam Wainwright with seven scoreless innings Friday, but a series of mistakes by young players cost Seattle in the end as the Cardinals pulled out a 2-1 victory in 10 innings.
The Mariners outhit the Cardinals 10-4, but three rookies committed costly defensive miscues, the entire team couldn't come up with the timely hit and three runners were gunned down on the basepaths as Seattle fell to 6-13 in extra-inning games this year.
The 13 extra-inning losses is a franchise record and this one hurt as much as any, given the golden opportunity to top a talented St. Louis squad battling for the National League Central lead in front of 40,506 red-clad fans at Busch Stadium.
Rookie catcher Mike Zunino -- who drove in Seattle's lone run with a solo homer in the fifth -- allowed the walk-off run to score on a passed ball with the bases loaded and two outs in the bottom of the 10th as the Mariners lost their fifth straight to fall to 65-82.
"It was just one of those things where it was to my glove side and I just sort of lost track of it heading toward my glove, when I had to just watch it in and it caught me right off the thumb," said Zunino, one of four rookies in Seattle's starting lineup.
"It's frustrating, especially when I take a lot of pride in my defense," the 2012 first-round Draft pick said. "It's one of those things where that's something you get looked at. For me, being a catcher, it's a good game if you don't notice anything. That's the biggest stage right there and something happened. But it's one of those where you have to come back to the ballpark and work harder the next day."
Rookie reliever Chance Ruffin gave up a two-out single in the 10th to Pete Kozma and Oliver Perez came on to walk Matt Carpenter and Jon Jay before Kozma scampered home for the winning run on the passed ball with Matt Holliday at the plate.
But manager Eric Wedge noted the game never would have come to that point if the Cardinals hadn't knotted the score at 1 in the bottom of the eighth on an unearned run off reliever Charlie Furbush after Iwakuma had thrown a seven-inning gem.
The Mariners young infield committed two costly miscues as rookie second baseman Nick Franklin turned a popup by Brock Peterson in shallow right field into a two-base error, then rookie shortstop Brad Miller bounced a throw to first on a potential inning-ending double play that first baseman Kendrys Morales couldn't come up with as Kozma, pinch-running for Peterson, crossed the plate with the tying run.
"It just got up in the air and the ball started traveling on me," Franklin said after misjudging the one-out pop fly. "I had to go get it and fell short of it."
It was the 10th error of the season in 88 games for Franklin, while Miller has eight in 68 games. Zunino has been solid behind the plate, but his mistake added to the toxic mix on a tough Friday the 13th loss.
"It's our youth," Wedge said. "You saw it again tonight. Multiple plays that have to be made. We've got a lot of young players up here. They're very inexperienced. They're up here to help us win, but they're also up here for us to play them and watch them, evaluate them and let them know what they need to work on and continue to help them work on.
"When you're playing tight ballgames like a lot of our games have been and you're tight late, that's when it really shows. Whether it be defensively or at home plate or on the mound, that's what we've seen a lot of."
The victory loomed large for the Cardinals, who moved into a one-game lead over the Pirates in the NL Central at 86-61.
"It was a very good win," said Wainwright. "We beat a team that had a tough pitcher going out there today. Iwakuma has been nasty all year. He has good stuff, a very deceptive delivery and keeps guys off balance. To come away with a 2-1 win like that in extra innings is a big win."
Iwakuma continued his stellar season by allowing just three hits with two walks and one strikeout, but his fourth straight no-decision left him 12-6 with a 2.87 ERA.
Iwakuma now has totaled 203 2/3 innings for the season, a career high for the 32-year-old whose previous tops was 201 2/3 innings for the Rakuten Eagles in Japan in 2008. He becomes just the fourth Japanese pitcher to exceed 200 innings in a season in the Majors, joining Hideo Nomo (four times), Hiroki Kuroda (twice) and Daisuke Matsuzaka.
"I'm very happy about that because this is one of my goals, to stay healthy and stay in the rotation for a long time," Iwakuma said through translator Antony Suzuki.
Wainwright allowed only the solo homer to Zunino, going eight innings with just one run on six hits.
Zunino's blast, estimated at 435 feet, was his third homer of the season and just the 14th surrendered by Wainwright in his 31 starts.
"The home run to Zunino was probably the worst pitch of my life," Wainwright said. "He hit it out; that's what happens to really bad pitches. It was supposed to go down and away, [instead it was] up and in. I was disappointed with that one. But for most of the night I felt like I was in command of my stuff."
The loss kicked off a tough 10-game road trip in which the Mariners play two more against the Cardinals and then four against American League Central-leading Detroit before finishing up with a trio of games at the suddenly revived Angels.
The Mariners are now 1-6 in franchise history in Interleague games in St. Louis.
Greg Johns is a reporter for MLB.com. Follow him on Twitter @GregJohnsMLB as well as his Mariners Musings blog. This story was not subject to the approval of Major League Baseball or its clubs.