No surprises among Giants' likely DH choices
No surprises among Giants' likely DH choices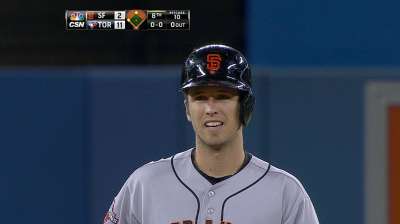 LOS ANGELES -- Credit Bruce Bochy for having a good memory.
Asked who he might use as designated hitters for next weekend's Interleague series against the New York Yankees, Bochy casually mentioned the three players who already have filled the role this year: Buster Posey, Marco Scutaro and Pablo Sandoval.
The choices make sense, since they're all potentially productive hitters who are prone to aches and pains. Being installed as the DH spares them the rigor of playing defense yet keeps their bat in the lineup.
As DHs, Scutaro is hitting .385 (5-for-13) with three runs scored in three games and Posey is batting .300 (3-for-10) with two doubles and three RBIs in three games. Sandoval went 0-for-4 in his lone DH stint.
Though it usually takes more than one hitter to make a difference, it's worth noting that the Giants own a 1-6 Interleague record on the road -- where they employ the DH. They're 5-12 overall against Interleague foes.
Chris Haft is a reporter for MLB.com. This story was not subject to the approval of Major League Baseball or its clubs.