Wilson downplays facing off with Giants
Wilson downplays facing off with Giants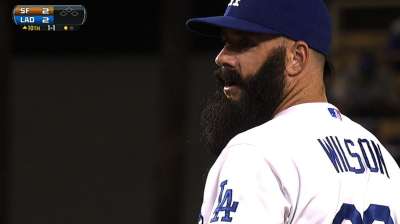 LOS ANGELES -- Brian Wilson said what might have been on a lot of people's minds as he recounted his Thursday night appearance against the Giants.
"It felt like the old days," said Wilson, who received the decision in the Dodgers' 3-2 victory by throwing a scoreless 10th inning.
Wilson was referring Friday to the ease with which he threw -- not his eventful 2006-12 tenure with the Giants, with whom he won a World Series in 2010 along with legions of fans. Wilson stirred plenty of emotion from those fans by signing with the Dodgers on July 30 after recovering from April 2012 Tommy John surgery, his second such procedure.
By contrast, Wilson said he felt no extra excitement or agitation upon confronting his former club.
"I used to face them in Spring Training," he said, referring to live batting practice sessions. "It was another team; you got to get three outs. I didn't really put added pressure or any emotion into the inning. I go out there, do my job and get it over with."
Wilson proved that his sense of humor was intact. When a reporter cited a 95 mph fastball he threw, Wilson said, "Well, I'd like to throw 110. I've been working on that."
Wilson declined to elaborate on statements he made about the Giants, from the organization's refusal to tender him a contract last offseason to the continued loyalty of many of the team's fans.
"I've talked about that a lot," said Wilson, who entered Friday with a 2-1 record and a 1.17 ERA in 11 outings. "There's nothing more I can say. I've said what I needed to say and remained silent for a number of reasons -- out of respect to the city and team I play for now. There's just no reason for anything to get legs."
Asked whether he had communicated with any former Giants teammates, Wilson said, "I've always remained in contact with my friends thoroughout baseball." One of them happened to be manager Bruce Bochy, with whom Wilson crossed paths hours before batting practice.
"I spoke to him a little bit and told him I wanted to let him know that I'm happy he's back pitching," Bochy said. "I know it was a long road for him."
Chris Haft is a reporter for MLB.com. This story was not subject to the approval of Major League Baseball or its clubs.