Clark's first career hit sparks Astros' big fifth in win
Clark's first career hit sparks Astros' big fifth in win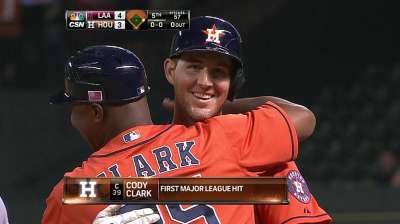 HOUSTON -- It's not often that a single hit would bring an entire crowd, including the dugout, to its feet, but in this case, it was justified, with the recipient on the well-deserved end of the attention.
Cody Clark, an 11-year Minor League veteran who was 0-for-25 to start his Major League career, logged that elusive first hit to lead off the fifth inning a day before his 32nd birthday. It ended up being a big deal for both Clark and the Astros, who piled on six runs that frame in an eventual 9-7 win against the visiting Angels.
"I think that was one of the happiest moments of the season," manager Bo Porter said.
He's not exaggerating. With 51 wins against 96 losses, there haven't been a lot of celebratory moments for the Astros this season. But the well-liked Clark, brought in three weeks ago to bolster a catching crew depleted by injuries, had become quite a story. Not for what he's done, but for what he couldn't do -- until he came to the plate in the fifth and laced a perfect base hit to center field.
His teammates, simply put, went nuts in the dugout.
"It was amazing," Clark said. "I can't even describe it, because they've been so supportive of me. Every day they're telling me, 'You're going to get it. Don't worry, you're going to get it.' It was good to score a run and get in there and give them all high-fives and hugs."
Clark appeared in 10 games before Friday night's game against the Angels and had few issues behind the plate, throwing out six of nine would-be base stealers. But as the at-bats piled up and no hits dropped, he started feeling the pressure.
"After the first three or so games, I wasn't really pressing," he said. "I was taking some decent at-bats. The past two or three or four games, I've just been pressing a little too much and swinging at everything. Before the game I felt really good, and I just felt really calm and relaxed tonight. I didn't really think about it and just felt good today."
The game may as well have been about Clark, because it wasn't going to be about the pitching, unless the object was to see which offense could do a better job of bailing out the ineffectiveness of its hard-throwing teammate.
In that case, the trophy goes to Matt Dominguez, who kept the line started by Clark moving when he cleared the bases in the fifth with his second grand slam of the season. By the time the frame ended with another Clark at-bat, this one a flyout to center, the Astros were up by five.
"Both teams were scoring a good amount of runs," Dominguez said. "Guys in front of me had good at-bats for me to get in that situation. I got a good pitch to hit out of the park."
Dominguez added that he was happier for Clark than himself, a sentiment that seemed to be felt among the crowd at Minute Maid Park that loudly cheered the catcher when the hit skidded onto the outfield grass. Even before the scoreboard announced it was Clark's first hit, the fans seemed to already know.
"That was the loudest I've seen for just a hit this year," Dominguez said. "I think everybody was excited for him. He's a great guy, works hard and is a great teammate. It was nice to see."
Starter Dallas Keuchel struggled for the second time in a week and has allowed 11 runs in nine combined innings across his past two outings, the first coming Sept. 6 in Oakland. He yielded six runs to the Angels over 5 2/3 innings this time, but Jason Vargas, who gave up eight runs over 4 1/3 frames, had it worse.
Keuchel yielded a two-run triple to Mark Trumbo in the third and a leadoff homer to Chris Iannetta as part of a two-run fourth.
"Luckily we got out of there with a win, but I can't pitch like that," Keuchel said. "I know I had nine strikeouts, but giving up six runs is not what I like to do."
Said Porter: "He did a good job of mixing and matching, but he didn't have his pinpoint command that he normally has. Those guys kind of got in some hitter's counts and hit some balls hard, but he definitely did a good job of mixing his pitches."
The win improved the Astros to 10-7 against the Angels and guaranteed the season series win. The Astros also tied their second longest winning streak of the season with four.
"We've had other times throughout the course of the year that we played well in certain aspects," Porter said. "I think this is the best complete baseball we've played all year from a starting-pitching standpoint, to an offensive standpoint, to hitting with men in scoring position, situational hitting, the bullpen coming in in tight situations and getting those crucial outs. As far the team goes, I think this is the best all-around baseball we've played."
Alyson Footer is a national correspondent for MLB.com. Follow her on Twitter @alysonfooter. This story was not subject to the approval of Major League Baseball or its clubs.