Vargas falters first as win streaks collide in Houston
Vargas falters first as win streaks collide in Houston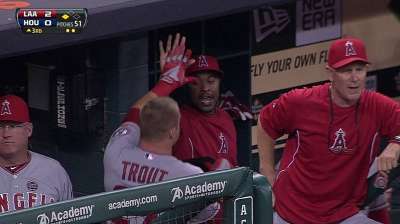 HOUSTON -- With Houston looking for its fourth consecutive win and the Halos, victorious in 15 of their last 20 games, seeking the same, something had to give Friday night in the opener of a three-game weekend series at Minute Maid Park.
It was an Angels pitching staff, so good over those last 20 games, that flinched first. A three-run homer in the third inning and a grand slam that highlighted a six-run fifth inning was enough firepower to give the Astros a 9-7 win.
Houston has won more games against the Angels than any other team this season, clinching the season series with a 10-7 advantage against the Halos with two games left.
But there was some good news for the Angels, who prior to Friday had won seven of eight and 10 of 12 road games. Second baseman Howie Kendrick did not look a bit rusty after missing 33 games with a hyperextended left knee. In his first at-bat of his first game back, Kendrick lined a pitch from Astros lefty Dallas Keuchel up the middle for the first hit of the game.
He followed it up with a two-out single in third and scored the first run of the game on a triple from Mark Trumbo that extended his hitting streak to nine games. The Angels first baseman is hitting .405 (15-for-37) during that stretch with nine extra-base hits: four homers, four doubles and one triple.
"Mistake pitch to a pretty streaky hitter [Trumbo] right there, and I paid for that," Keuchel said. "Other than that, I felt really good. We got the win and that's all that matters."
Mike Trout, who followed Kendrick's single with a walk, also scored, and the Angels led, 2-0. Trout walked three times, giving him 48 free passes in the last 43 games, tops in the Major Leagues during that span.
If the season ended today, Trout's .438 on-base percentage would be the highest in Angels' history.
Astros second baseman Jose Altuve yanked a 3-1 pitch from Angels starter Jason Vargas (8-7) into the left-field seats with two out in the bottom of the third, scoring L.J. Hoes and Brandon Barnes to put Houston in front, 3-2.
"That was just a changeup that was in the middle of the plate," Vargas said.
The other eight hits Vargas surrendered were singles.
"There's really not a whole lot you can do about that, especially when they're just finding a way through the infield or right in front of the outfield," Vargas said. "Obviously it's frustrating to give up that many runs and put your team in a hole.
"You tip your hat. They were able to manufacture runs, even though the balls weren't exactly driven. They were able to capitalize and do what it takes to put some guys across the plate. It's frustrating, but at the same time, you're making good pitches."
Vargas went 4 1/3 innings, allowing nine hits and eight runs. He struck out four.
Chris Iannetta tied it on the first pitch of the fourth inning, blasting his 10th homer of the season far beyond the left-field fence. It was the first of four hits in the inning. Andrew Romine gave the Angels a 4-3 lead with an RBI single plating Kole Calhoun, who followed Iannetta's homer with a single.
The lead went back in the Astros' direction for good as they batted around in the fifth inning. Trevor Crowe started the scoring with a two-run single to give the Astros a 5-4 lead. And with Altuve already on base, Vargas loaded them by hitting his second batter of the game, grazing the jersey of designated hitter Brandon Laird to end the lefty's day.
Astros third baseman Matt Dominguez belted the first pitch from Angels reliever Cory Rasmus for his second career grand slam. It was Dominguez's 20th homer of the season, capping a six-run inning that extended the Astros' lead to 9-4.
"I threw it down and away, and it faded back right middle in," Rasmus said. "[Dominguez] put a good swing on it, obviously. Obviously I wish I could take it back, but things happen. You've just got to try to learn and move on to the next outing."
It turned out to be the key hit in the game.
"That kind of gave us a little bit of the distance that we needed," Astros manager Bo Porter said. "You look at the final score, 9-7, we needed every last one of them. Matt Dominguez, he's gotten big hits all year. I think that's what, 20 home runs? He continues to get the big hits when it counts."
The Angels chased Keuchel in the sixth inning. Romine delivered a two-out single to score Iannetta, who opened the inning with a double. Romine scored from first on a double by Erick Aybar, cutting Houston's lead to 9-6.
Before he exited, Keuchel struck out nine to tie his career high. He was the beneficiary of Houston's offensive explosion, improving to 6-9 for the season.
"Luckily, we got out of there with a win, but I can't pitch like that," Keuchel said. "I know I had nine strikeouts, but giving up six runs is not what I like to do."
A bases-loaded walk to Trout in the eighth inning, the third walk of the inning issued by Astros pitching, scored Collin Cowgill and narrowed the gap to 9-7. But with the bases still loaded and one out, Trumbo rolled into a 6-4-3 double play.
"This was one of those unusual nights we've had in the last three weeks," Angels manager Mike Scioscia said. "We just didn't get it done on the mound-- hasn't happened very often. Hopefully we'll get back on the beam tomorrow.
"I thought on the offensive side we did a lot of good things and had a lot of opportunities. Give those guys credit, they got a couple of double-play balls that got out of some jams and minimized some damage. And on our side, we couldn't do the same."
Glenn Sattell is an associate reporter for MLB.com. This story was not subject to the approval of Major League Baseball or its clubs.