Archer helps Rays close in on top WC spot
Archer helps Rays close in on top WC spot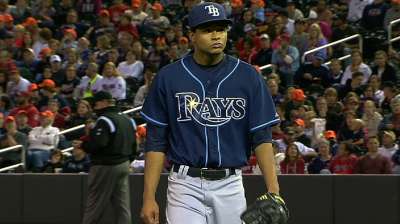 MINNEAPOLIS -- Chris Archer might be on a bit of a short leash these days, but he made the most of his opportunity to prove himself again on Friday night.
Archer threw six scoreless innings and the Rays strengthened their position in the AL Wild Card race with a 3-0 win over the Twins at Target Field.
The Rays entered Friday holding a one-game lead over the Yankees for the second Wild Card spot and two games behind the Rangers for the top spot. With the Yankees falling to Boston and Cleveland winning Friday, the Rays now hold a 1 1/2 game lead over Cleveland for the second slot and are a game behind the Rangers -- who lost to Oakland, 9-8 -- for the top spot.
Archer (9-7) rebounded from a rough two-game stretch in which he allowed seven earned runs in 7 2/3 innings as he lost back-to-back starts against the Angels and Mariners. Manager Joe Maddon and pitching coach Jim Hickey have been watching him closely, not wanting to put too much stress on the arm of the 24-year-old right-hander.
Archer's career high in innings pitched as a professional is 147 1/3, and this year between Triple-A Durham and Tampa Bay he's already thrown 166 innings with two weeks left in the regular season and a possible playoff run looming.
On Friday, Archer was in control from the first pitch, allowing just three hits and no walks while striking out seven. Maddon pulled him after 87 pitches, which he called a perfect amount.
"I know that he does his work -- the mental and physical components," Maddon said of Archer. "He's really a great student. The biggest concern or factor is that he's never pitched this much into the season, whether it's number of innings or the magnitude of the game. So I just really want to eye him up, because our intent is to play well into October, and I want to make sure that he's well."
Archer said after the game that while he wants to keep pitching and doesn't feel the need to be on any kind of a limit, he understands his manager's concern.
"None of it's in my hands. The only thing I can control is each pitch," Archer said. "I don't mean to sound cliche, but I feel good. … I still feel physically and mentally there, but I have an understanding of the big picture and maybe saving a couple extra innings just in case we do make that magical playoff run."
The Rays are going to have to get more than strong pitching and solid defense for that to happen. The lowest-scoring team in the Majors since Aug. 1 managed just three runs against a Twins team that allowed 26 over the past two games against Oakland. But Maddon remains optimistic that the his team's offense is ready to click.
"Offensively, we just haven't really got on that good roll, which we will. I really believe that roll's coming," Maddon said. "Nobody's fatigued, I don't think. I may look to still give a guy rest here or there as we go forward. But overall I think the guys are in good shape. We just need that one breakout moment to really get them to relax and just go hit."
Desmond Jennings and James Loney each had RBI singles in the early going to give the Rays a 2-0 lead off Twins starter Kevin Correia (9-12). They built the lead to 3-0 in the seventh, but blew a chance to break the game open. Jose Molina and Yunel Escobar opened the inning with doubles to plate a run, and when David DeJesus followed with a single, Correia's night was done.
Maddon then called for a safety squeeze, but Ben Zobrist popped up reliever Caleb Thielbar's first pitch to first baseman Chris Parmelee, who fired to third to double off Escobar. Thielbar then picked off DeJesus to end the inning.
Afterwards, Maddon was able to laugh about the baserunning gaffes and expressed amazement at how easily Thielbar was able to get out of that jam -- three outs on three pitches.
"The baserunners didn't have to advance there," he said of the bunt play. "So it should have been one out. And we definitely topped it off with the trifecta of messing up a particular inning. Thielbar records like three outs with not even a bead of sweat appearing on his forehead."
Jake McGee and Joel Peralta each pitched a scoreless inning to set up Fernando Rodney, who sealed the win with a 1-2-3 ninth for his 35th save.
But the key to the victory was Archer, who made a few adjustments with pitching coach Jim Hickey during the week to focus on location rather than trying to overpower hitters with his best fastball and hardest slider on every pitch. He also benefitted from a strong changeup, which he said was the best he'd ever thrown it.
"I've had games where it's been decent, but tonight it was the best it's been in my career," Archer said. "[Molina] noticed it in the bullpen, and we talked about it and he was like, 'We're going to use it today.' They always put a lot of lefties against me, and I think tonight the difference was me having something a little slower to show them instead of hard fastball, hard slider."
Patrick Donnelly is a contributor to MLB.com. This story was not subject to the approval of Major League Baseball or its clubs.