Aramis hit by pitch, exits with bruised left wrist
Aramis hit by pitch, exits with bruised left wrist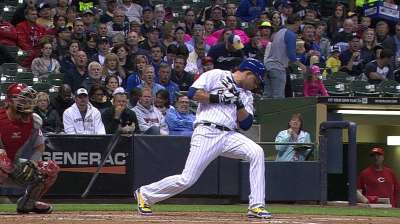 MILWAUKEE -- Brewers third baseman Aramis Ramirez, whose season has already been ruined by a left knee injury, exited Friday's game after being struck on the left wrist by a Mat Latos pitch in the first inning. X-rays were negative and he was diagnosed with a bruised wrist.
"I should be OK in the next few days," Ramirez said. "You never want to be hit around the hand, but if you are, I got hit in the right place. I got hit in the wrist, and that's a big bone in there."
Ramirez was in obvious pain after the wayward, 93-mph fastball knocked the bat from his hands. He remained in the game, and the Brewers took a 2-0 lead when Carlos Gomez flared a single to shallow right field, but Jeff Bianchi took over at third base at the start of the next inning.
It has been a terrible year for the middle of the Brewers' batting order. No. 3 hitter Ryan Braun is serving a 65-game suspension, No. 5 hitter Corey Hart is out for the season after surgery on both knees, and Ramirez has been limited to 10 home runs and 41 RBIs in 81 games as a result of his knee issue.
Ramirez will probably sit out Saturday's afternoon game against the Reds.
"He's going to be pretty sore tomorrow, I would think," Brewers manager Ron Roenicke said.
Adam McCalvy is a reporter for MLB.com. Read his blog, Brew Beat, and follow him on Twitter at @AdamMcCalvy. This story was not subject to the approval of Major League Baseball or its clubs.