Rizzo hits go-ahead blast as Cubs top Pirates
Rizzo hits go-ahead blast as Cubs top Pirates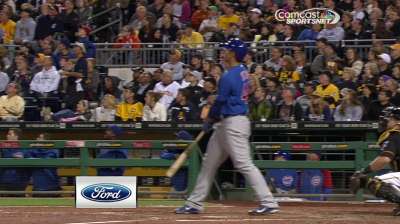 PITTSBURGH -- Anthony Rizzo wiped out the Pirates' back-to-back-to-back blasts with his 22nd home run, a towering two-run shot in the seventh, to power the Cubs to a 5-4 come-from-behind victory Friday night and snap Pittsburgh's winning streak at four games.
The biggest hit of the night, though, may have been the single Rizzo hit in his next at-bat in the ninth. It was the first time he's had a hit in back-to-back at-bats since July 31.
"It's huge for him, and hopefully it carries over in the last couple weeks here," Cubs manager Dale Sveum said of the home run by the first baseman, who has struggled in his sophomore season. "Hopefully, that confidence builds."
Swings like the one he had in the seventh can only help. Trailing 4-3 with two outs in the inning against Jason Grilli, Luis Valbuena walked, and Rizzo then launched his homer, his first since Aug. 30. The ball cleared the right-field seats at PNC Park but landed short of the Allegheny River. It was his second hit in 18 at-bats on the road trip.
The television cameras caught Sveum saying, "Wow." It was a wow moment.
"It was definitely one of my better home runs there," Rizzo said. "He threw me a slider. He's an All-Star closer coming in the seventh for this team. That says a lot about the Pirates. He was down and in, and I just put a good swing on it and tried not to do too much."
"Grilli is so close, and we need to keep him in play," Pirates manager Clint Hurdle said of the right-hander who had been sidelined with a strained forearm. "We've got to keep getting him out there on a somewhat consistent basis if we want to get him better. He's not going to get better not pitching."
Pittsburgh trails St. Louis by a game in the National League Central after the Cardinals beat the Mariners. The Pirates seemed in control after Pedro Alvarez, Russell Martin and Garrett Jones hit consecutive home runs in the fourth to the delight of the crowd of 35,962.
The Cubs had given starter Jake Arrieta a 1-0 lead in the second on a run-scoring fielder's choice by Darwin Barney. With two outs and a runner at first in the fourth, Brian Bogusevic made it 3-0 with his fifth home run, hitting the first pitch from starter Charlie Morton into the shrubbery in straightaway center.
Sveum overloaded the lineup with left-handed bats to try to throw off Morton.
"He did keep the ball down and his sinker was about as good as I've seen him since he came back from his injury," Sveum said of the Pirates' starter. "The ones he got up, we took advantage of."
Chicago's lead was short-lived. With two outs in the fourth, the Cubs employed a severe defensive shift against Alvarez, moving third baseman Valbuena to the right between Barney at second and shortstop Starlin Castro. Alvarez beat the shift, hitting his NL-leading 33rd home run off the center-field wall, an inside-the-park shot. A fan appeared to reach over and touch the ball, but the umpires didn't review it. Martin didn't waste any time, launching the next pitch from Arrieta over the left-field wall for his 14th homer, and Jones connected on an 0-1 pitch for his 14th homer to tie the game.
It was the first time the Pirates had hit three consecutive home runs since Aug. 20, 2003, against the Cardinals, and the first time they'd done so in Pittsburgh since July 6, 1955, when Jerry Lynch, Frank Thomas and Dale Long all connected against Brooklyn's Carl Erskine.
"The first one to Alvarez was a good cutter middle-in, and somehow he was able to put the barrel on it," Arrieta said. "It sounded good, and as high as he hit it, I didn't think there was a chance it was going to get out. There was some fan interference there, a close call, but nobody said anything of it.
"Russell coming up, the second home run, he's a veteran hitter and I wanted to execute down and away, and I left it up and he did the damage there," Arrieta said. "Garrett Jones, I started him off with a really good breaking ball, and I threw another one and left it a little too much in the middle of the plate, and he did a good job putting a good swing on it."
The Pirates attacked quickly and didn't give Arrieta much time to catch his breath.
"When guys go back-to-back-to-back, they still have to put three good swings on the ball," he said. "I have to tip my hat to those guys. ... That was really the only blemish of the outing."
How did he regroup after the inning?
"I've been in tough situations before, so I'm used to it," Arrieta said. "You just have to put it behind you. ... A team like the Pirates, they're in the playoff hunt, and the crowd is going to be into it and very high energy. We were able to battle back and Rizzo came up with a big two-run home run for us."
Andrew McCutchen doubled to open the Pirates' sixth and chase Arrieta. Brooks Raley retired the first batter he faced, but Alvarez hit a grounder that Rizzo fielded and flipped to the pitcher, who was covering first. But Raley couldn't handle the throw and was charged with an error. McCutchen scored on the play.
After Rizzo's blast, Kevin Gregg pitched the ninth for his 32nd save. The Cubs have two more at PNC Park against a hungry Pirates team.
"They're a good team and they've been playing good baseball all year, and playing close games all year," Bogusevic said of the Pirates. "They're never out of it and they're never going to lay down."
Carrie Muskat is a reporter for MLB.com. She writes a blog, Muskat Ramblings, and you can follow her on Twitter @CarrieMuskat. This story was not subject to the approval of Major League Baseball or its clubs.