Sprained finger may keep CarGo out of batter's box
Sprained finger may keep CarGo out of batter's box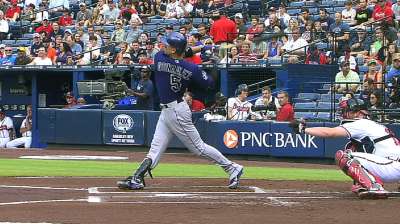 PHOENIX -- With Carlos Gonzalez's sprained right middle finger still bothering him and just a little more than two weeks remaining on the schedule, Rockies manager Walt Weiss said Friday the All-Star outfielder might not get another at-bat this season.
"It's possible," Weiss said. "We're sneaking up on the end here, so it's possible."
Since returning from the disabled list on Sept. 3, Gonzalez has appeared in six games, but all of them have been as a defensive replacement. The 27-year-old initially sustained the injury at the beginning of August.
"I don't think much has changed, still tough for him to swing a bat," Weiss said. "He's gotten evaluated and re-evaluated about six or seven times by a handful of different doctors. We're trying to look under every stone, but not a whole lot has changed."
If Gonzalez remains unable to swing the bat, the club still plans to use him defensively and potentially as a pinch-runner.
Tyler Emerick is an associate reporter for MLB.com. This story was not subject to the approval of Major League Baseball or its clubs.