Five players prepare for Dancing with 'Stros event
Five players prepare for Dancing with 'Stros event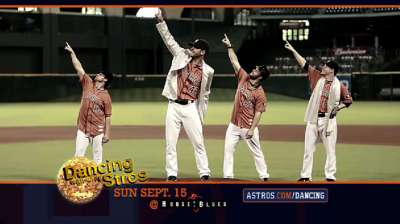 HOUSTON -- Five brave Astros are going to put their dancing shoes on after Sunday's game for a spin around the floor at the House of Blues, all in the name of charity.
Well, some would say they're brave. Others might say they're crazy.
Most of them -- Jake Elmore, Jose Altuve, Trevor Crowe, Jarred Cosart and Dallas Keuchel -- are looking at this as they should: a light-hearted, fun exercise that will raise funds for good causes. Whether they can dance is irrelevant, despite the fact that this event is called "Dancing with the 'Stros," and it will involve Astros players being paired with professional dancers and judged by their peers.
Yes, their peers -- the rest of the Astros players.
"I've guaranteed victory," Elmore said. "So I have something to live up to."
Crowe appears to see it the same way as Elmore.
"I get to play catch with Jake Elmore every day, and when a good song comes on, he'll just burst out with a super good dancing move," he said. "He's by far the favorite in my eyes."
On the other side of the clubhouse, opinions were equally as definitive.
"I'm not going to win," Cosart said. "I promise. I'm just going to have fun with it. I have no idea what I'm doing or even what the outline is. I'll see what I can come up with in the next 48 hours."
He shouldn't look too hard. The object of the game is to go into it blindly. Crowe wanted to prepare ahead of time -- a la the actual network show, Dancing with the Stars -- but was rebuffed. Players will have one hour to learn a routine before hitting the big stage.
"I haven't practiced at all," Crowe said. "I wanted to cheat and meet with my partner early, but they said that wasn't possible."
Alyson Footer is a national correspondent for MLB.com. Follow her on Twitter @alysonfooter. This story was not subject to the approval of Major League Baseball or its clubs.