Young starting to reward A's patience
Young starting to reward A's patience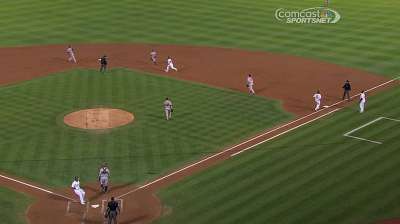 ARLINGTON -- Of the many attributes the A's believed Chris Young brought to the table when they acquired his services from the D-backs last offseason, hitting for a high average wasn't among them.
Still, Young boasted a combination of power and speed, along with exceptional defense. So when his average kept slipping for the better part of the first half -- and continuing in the same fashion at the start of the second half -- the A's stuck with the veteran, who had averaged 24 home runs and 21 stolen bases in seven seasons in Arizona.
Finally, in the last month of the regular season, they're being rewarded for their patience. And the timing couldn't be better for an A's team closing in on a second straight postseason berth.
Young entered Friday's series opener in Texas riding a season-high five-game hitting streak. He's 7-for-18 in that span, his average finally above the Mendoza Line -- barely -- at .201 through 96 games, the first time he's been over .200 since May 25 (.207). In June, it dipped as low as .173.
He has 11 home runs and 36 RBIs to go along with eight stolen bases.
"As a guy who's an everyday player, you almost to an extent fight it. You don't want to accept the fact that you're playing in a certain role," said manager Bob Melvin. "But he's an everyday guy that's playing in a role, and he's doing really well right now. He's going to be big for us."
Young drew the start in right field on Friday against Rangers lefty Derek Holland, and he figures to get plenty of playing time down the final stretch, as the A's are set to face almost as many southpaws as right-handers.
Keeping Young in play, and on a hot streak, could pay dividends for a surging A's offense, batting .284 over its last 33 games.
"We envision him being an important piece, and you have to keep a guy like that going," Melvin said. "You have to stay supportive of him, because you know he's going to get it going at some point, he's going to acclimate, and he's going to end up playing potentially a big role for us.
"It's easy to do, because he works so hard and prepares and is great in the clubhouse. He's one of the leaders in the clubhouse with his experience, so when you're struggling some and having trouble finding your niche, you have to stay supportive of guys like that."
Jane Lee is a reporter for MLB.com. This story was not subject to the approval of Major League Baseball or its clubs.