Maddon hopes Crain can be a factor down stretch
Maddon hopes Crain can be a factor down stretch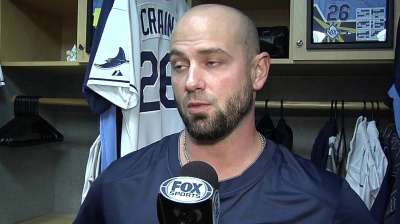 MINNEAPOLIS -- Jesse Crain took another big step forward in his rehab process on Friday, throwing 50 pitches in a bullpen session before the Rays took batting practice at Target Field.
Crain has been on the disabled list because of a right shoulder strain since he was acquired by the Rays in a trade with the Chicago White Sox on July 29. He threw his second bullpen session on Tuesday and followed it up Friday with another outing under the watchful eye of team trainer Ron Porterfield.
"Ronny said he did really well," manager Joe Maddon said. "We'll see how he feels [Saturday], and then if he feels well, then we'll set up the next part of the plan. We have an idea of what that's going to be, and I'll tell you all tomorrow after we find out that he feels well."
Crain might have inadvertently tipped his hand on the next step, however -- facing hitters off the mound.
"The last step is when hitters are in there," Crain said Friday. "You put a little more on it, so that'll probably be the last hurdle to go for."
According to Crain, that could happen as soon as Monday, and if that goes well, he could be back in game action -- making his Rays debut -- as soon as Wednesday.
"It depends on how I feel and how it goes," Crain said. "I can probably tell the most how I feel and if I'm ready or not. I won't know that until I go out there and face those guys. If it goes real well, I could be ready a day or two after that. It just depends on what they want to do."
The addition of Crain, a 2013 AL All-Star with the White Sox, could provide a huge boost and be a difference-maker down the stretch as arms tire and bullpens are taxed throughout the league. Maddon said Crain wouldn't be used in high-leverage situations immediately, but could be a factor in the tight AL Wild Card race.
"Our goal is to be playing for a lot longer this season, and if we can work him into it, and get him to the point where he's comfortable again and can throw his pitches for strikes when he wants to, he could be quite a force," Maddon said.
Patrick Donnelly is a contributor to MLB.com. This story was not subject to the approval of Major League Baseball or its clubs.