O'Day receives cortisone shots in fingers, wrist
O'Day receives cortisone shots in fingers, wrist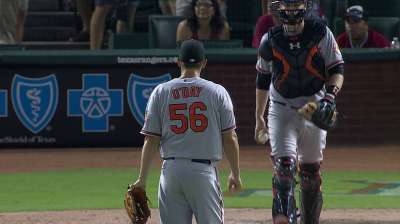 TORONTO -- Darren O'Day received a pair of cortisone injections in his ailing right wrist/fingers on Friday morning, and the reliever could rejoin the Orioles against Tampa Bay next weekend.
"I don't think we're completely out of the woods, but the doctor thinks it should calm down, some of the things that are causing the inflammation," manager Buck Showalter said of O'Day, who saw hand specialist Dr. Brian Schofield in Sarasota, Fla., after running a gamut of tests in Baltimore the past few days. "There's no structural damage, the way I'm told.
"They had an idea from the tests yesterday and they just wanted it verified. So he went down there and agreed and had it injected in two spots. Hopefully, it will manage itself in a day or two. I think in the next 48 hours we'll know if it solves itself."
O'Day has been dealing with numbness/tingling in his right index and middle finger for the past week or two and the condition had worsened, resulting in just two outings for him this month. Arguably the Orioles' best reliever last season, O'Day is 5-3 with a team-best 2.28 ERA in 63 games in 2013, and the club is trying to get him back as soon as possible.
"I think one [bullpen session] and then if he doesn't have a problem, the next day he's in," Showalter said of what O'Day needs to do to get back. "We are not going to do a bunch of sim games."
Brittany Ghiroli is a reporter for MLB.com. Read her blog, Britt's Bird Watch, and follow her on Twitter @britt_ghiroli. This story was not subject to the approval of Major League Baseball or its clubs.