Ellsbury progressing from foot injury
Ellsbury progressing from foot injury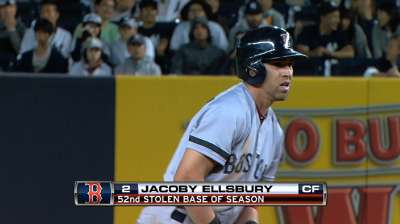 BOSTON -- There was minor progression regarding Jacoby Ellsbury's comeback from a compression fracture in his right foot on Friday, but the Red Sox remain unsure when their speedy center fielder and leadoff man will be able to return to the lineup.
The team is still restricting him from doing any baseball activity.
Ellsbury is taking baby steps in his recovery, the first of which will be made this weekend, as he's been cleared to do some physical activity.
"He comes out of the boot for a period of time for some exercises, some work in the pool," manager John Farrell said.
The swelling has at least gone down, according to Farrell. Ellsbury was getting treatment Friday afternoon and was again unavailable to reporters.
The plan of recovery has been laid out by the medical staff, though Farrell said it all revolves around Ellsbury's tolerance as progression continues.
Earlier this week, Farrell said he was hopeful Ellsbury would return at some point before the postseason.
Until then, Jackie Bradley Jr. has been the primary center fielder. The Sox's No. 2 prospect is 3-for-17 with two walks, five strikeouts and two runs scored in Ellsbury's absence.
With Ellsbury a free agent at the end of the season, Bradley, who is viewed as the center fielder of the future, is getting a chance to prove himself in the season's final weeks.
Jason Mastrodonato is a reporter for MLB.com. Follow him on Twitter @jmastrodonato. This story was not subject to the approval of Major League Baseball or its clubs.