Unlike last season, Sox thriving at Fenway
Unlike last season, Sox thriving at Fenway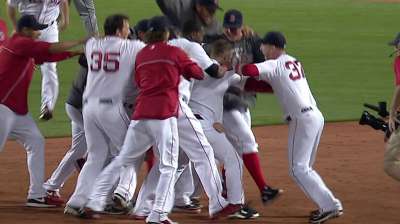 BOSTON -- The Red Sox returned to Fenway Park on Friday to start their final homestand of the 2013 regular season. All it takes is a look back to last year's results to appreciate this year's a little bit more.
On Sept. 26, 2012, the Red Sox fell to the Rays, 4-2, to finish with a record of 34-47 at Fenway Park, the team's worst home record in 47 years.
The fans responded by not showing up in the early parts of the 2013 seasons, ending the team's longstanding sellout streak on the second home game of the year.
The Sox responded by playing their best baseball at home.
After Friday's 8-4 win over the Yankees, the Red Sox are 48-25 at home, the best home record in the American League and second in baseball to the Braves' 51-21 mark.
"One thing that stands out is our guys respond to the environment in here," manager John Farrell said. "Anytime you come off the road, either after a long road trip, the energy that's created in here, our guys thrive on.
"I'm not going to say we do things differently from an offensive standpoint, to play the ballpark, but I think our guys love playing in this ballpark, this city and in front of these people."
Ironically, the Sox have had more success against the Yankees in New York, where they went 7-3 against them this year, compared to 4-3 against them in Boston.
Jason Mastrodonato is a reporter for MLB.com. Follow him on Twitter @jmastrodonato. This story was not subject to the approval of Major League Baseball or its clubs.