Farrell feels for Wild Card teams
Farrell feels for Wild Card teams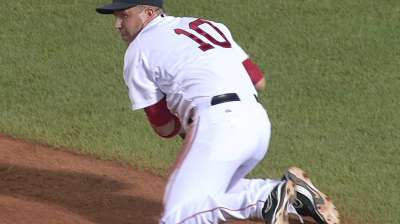 BOSTON -- The Red Sox haven't won anything yet, but their 8 1/2-game lead over the Rays in the American League East entering Saturday leaves them in good position to avoid the dreaded one-game Wild Card playoff game.
Manager John Farrell feels for whichever teams have to put a 162-game season on the line in one game.
"There's probably two views," Farrell said. "I think in Spring Training, yeah I'll sign up for a one-game play-in at the time of Spring Training.
"And then you get through it and you've gone 162 games, you hate to see a season in the balance of one game. We're not going to change the rules, but there's an awful lot that goes into a nine-inning game."
Farrell said he hasn't begun speculating as to which teams the Red Sox might face in the playoffs, but as a fan of the game, he's excited to see the playoff race.
"I can't imagine what the final week of the season is going to be like," he said. "I think the second Wild Card has really played into that, the meaning to every game played throughout that final week is heightened. And this year it might be tenfold where it was a year ago."
Jason Mastrodonato is a reporter for MLB.com. Follow him on Twitter @jmastrodonato. This story was not subject to the approval of Major League Baseball or its clubs.