Latos roughed up in opener as offense stays quiet
Latos roughed up in opener as offense stays quiet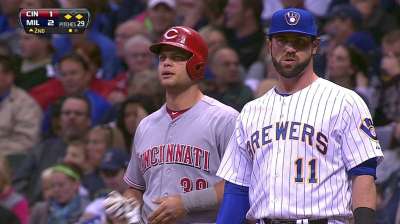 MILWAUKEE -- It was Friday the 13th at Miller Park, and Reds starter Mat Latos was feeling every bit unlucky.
The right-hander watched Carlos Gomez bloop run-scoring singles off the handle of his bat in his first two plate appearances, and Gomez added a two-run single up the middle in the seventh to lift the Brewers to a 5-1 series-opening win.
The Reds remained 2 1/2 games behind the Pirates, who lost Friday, for the first Wild Card position, and 3 1/2 games behind the Cardinals for the lead in the National League Central.
"A couple jam shots that beat us," said Latos, who suffered just his third loss since July 11 to drop to 14-6. "They got three runs off of two fisted balls that landed real shallow in the outfield. It was just one of those days that you've got to push the reset button and go after it again the next time you go out."
The Reds wish they could rewind the past five days. After taking three of four from the Cardinals and sweeping the Dodgers to start a 10-game homestand, they dropped two of three to the last place Cubs and lost the opener of a three-game series to the Brewers to kick off their final road trip of the season -- a nine-game stretch against Milwaukee, Houston and Pittsburgh.
Cincinnati has dropped seven of its last 11 games against the Brewers this season after winning five of the first six, and it fell to 3-5 at Miller Park.
Reds manager Dusty Baker could not get the image of Gomez's early base hits out of his mind.
"Boy, that's one of the cheapest hits I've ever seen," said Baker of Gomez's first flared single that drove in two runs in the first inning. "It looks like a single and two RBIs in the scorer's sheet. And then the next one by Carlos is the same way, and the last one with the bases loaded was the same way. It was hit a little harder. I guess that was his night when things like that happen over and over."
Gomez, mired in a 5-for-29 skid entering Friday, tied his career high with five RBIs and started the scoring with a bloop two-run single with the bases loaded in the first inning off Latos. The bags were packed after Norichika Aoki walked on four pitches, Ludwick misplayed a Jonathan Lucroy line drive and Aramis Ramirez took a Latos fastball off his left wrist.
Ludwick had a chance to record the second out of the inning, but he said he lost Lucroy's liner into the left-center field gap in the Miller Park lights.
"Second time it's happened to me in this ballpark," Ludwick said. "It happened to me in right field once, too. I tried to get down low and tried to get it out of the lights, but ... I was trying to just get a different angle on it, and I just couldn't get it out [of the lights]."
Gomez got jammed two batters later, but muscled an 0-2 fastball over first baseman Joey Votto's head to put the Brewers up 2-0.
Devin Mesoraco cut the deficit to 2-1 with an RBI fielder's choice in the second inning off Brewers starter Kyle Lohse, but Gomez flared another single -- this time on a first-pitch fastball -- into left field, scoring Jean Segura from second base with two outs in the third for a 3-1 lead.
Latos said both pitches Gomez hit were executed well, but the Brewers' center fielder got just enough wood on them to push them to the outfield grass.
"It's just what we wanted to do," Latos said. "He's a free-swinger, but he's that type of guy. He's a real good hitter, and he's real strong. Maybe if that's somebody else that [doesn't have] super human strength, I guess. I jammed him, I got exactly what I wanted. I got a shallow, little popup, but it just wasn't right at somebody. It happened to be where we weren't."
Meanwhile, the Reds could not muster anything against Lohse after Mesoraco's RBI groundout. Lohse escaped a bases-loaded, nobody-out jam to allow just the one run and threw six consecutive 1-2-3 innings. The only baserunner Lohse allowed in the final seven innings was a two-out walk to Jay Bruce before Ludwick grounded out, sealing the right-hander's ninth career complete game.
"The big inning is eluding us," Baker said. "You can't guide the ball. I can't take nothing away from him. He threw the ball well. He spotted it, he changed his speeds, he caught guys looking for the offspeed and he'd throw fastballs, looking for the fastballs, he'd throw offspeed. And he had good control. But like I said, we actually hit the ball better in my mind than they did, but the score didn't indicate who hit the holes."
"He missed a lot of bats tonight," Ludwick said. "He was getting a lot of balls hit off the end of the bat, a lot of people getting jammed."
While the Reds are in the thick of a playoff chase, Lohse said the Brewers have to put themselves in the mindset that they are too.
"You have to look at it as your playoff situation," said Lohse, who improved to 10-9 with the win. "These guys [the Reds], they're more than likely going to be in the playoffs. You're not going to knock them out or anything. But to be able to go out there and pitch well against a playoff-caliber team, it makes you feel good.
"That lineup can swing it quite a bit. I just went out here and did what I could, and it was fun."
Gomez added a two-out, two-run single up the middle in the seventh inning against Reds reliever J.J. Hoover. With two outs, Segura bunted his way on and Lucroy walked to end Latos' day. Hoover came in and walked Jeff Bianchi before Gomez lined the first pitch he saw into center field for two insurance runs. Both runs were charged to Latos.
Latos had sent down 10 of 11 hitters prior to the Brewers' two-out rally.
Kevin Massoth is an associate reporter for MLB.com. This story was not subject to the approval of Major League Baseball or its clubs.