'The Shark' returns to Washington
'The Shark' returns to Washington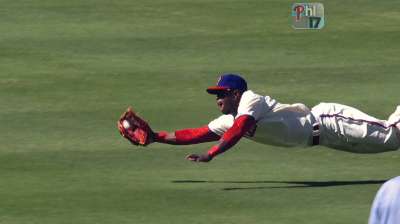 WASHINGTON -- Phillies outfielder Roger Bernadina returned to Nationals Park on Friday for the first time since the Nationals released him on Aug. 19.
Bernadina had played his entire professional career in the organization, signing with the Expos in 2001 and debuting with the Nats in 2008. But he downplayed the significance of coming back to the stadium he used to call home.
"Actually, I haven't really thought that much about it," said Bernadina, who signed with the Phillies on Aug. 21. "Maybe a few weeks ago, I'd say I was excited, but now it's like, I feel at home with the Phillies. I've kind of put it behind me. I had a great career with the Nats and now it doesn't really cross my mind."
At the same time, Bernadina was happy for the opportunity to play in front of the Washington fans again, although he wasn't in the starting lineup for Friday's series opener. During his time in the District, Bernadina earned the nickname "The Shark" for his defense in the outfield and had his own fan club, complete with shark costumes.
"The fans have always been great to me, and I love coming to Washington and seeing the fans," he said. "That's something for sure that will stick in my mind, is the fans. They've always been great and I'm looking forward to seeing them tonight."
As for Bernadina's tenure with the Phillies, the offensive struggles he experienced with the Nats this year have continued. He has gone 8-for-55 (.145) with his new club, including 4-for-his-last-34 with 10 strikeouts, losing playing time in center field to rookie Cesar Hernandez.
"It's been OK. I can't say it's been great," Bernadina said. "I started OK when I was playing a little more, but lately I can't get the stroke I want to. But there's still two weeks to go and I want to make the best out of it."
Andrew Simon is a reporter for MLB.com. Follow him on Twitter @HitTheCutoff. This story was not subject to the approval of Major League Baseball or its clubs.