Nats' mindset consistent through up-and-down year
Nats' mindset consistent through up-and-down year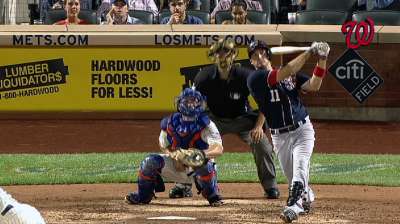 WASHINGTON -- As the losses piled up earlier this season, the Nationals claimed that the attitude in the clubhouse had not changed. Ryan Zimmerman said that even approach remains now, even though the team has won six straight games and 17 of its past 22.
"I think the guys in here, we've been the same all year," Zimmerman said. "I think that's one of the strengths of this team. It's been a difficult year, a frustrating year, but we've all kind of stuck together. At times, it might not have seemed like it, but we've been trying to win every game just like we have been the last week, and it just hasn't worked out for us."
The Nationals' recent road trip, which ended Thursday afternoon, was among the most successful trips in club history. With a four-game sweep of the Mets and series wins over the Marlins and Phillies, the Nationals went 8-2 . They finished 8-2 and 6-1 in two separate trips last season.
"The guys seem to be putting on the pennant drive or the salary drive or whatever you want to call it," manager Davey Johnson said. "It's fun."
The Nationals entered Friday's series opener against the Phillies with a 5 1/2-game deficit in the National League Wild Card chase behind the Reds.
"Everyone wants to make the playoffs, and in past years, the team that kind of sneaks in and is hot going into it has had some success," Zimmerman said. "But we've got a long ways to go. We've got to come out here and keep taking care of business, and hopefully one of those teams will slip up and we can sneak in."
Tom Schad is an associate reporter for MLB.com. This story was not subject to the approval of Major League Baseball or its clubs.