Right foot injury continues to frustrate Forsythe
Right foot injury continues to frustrate Forsythe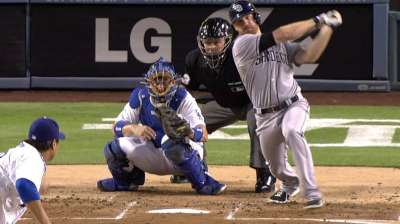 ATLANTA -- Infielder Logan Forsythe missed the first 64 games on the disabled list, time he hoped would be well-spent allowing the plantar fasciitis in his right foot to heal.
But after missing a month in a protective boot and working slowly though rehabilitation, Forsythe said Friday the planter fasciitis has returned, frustrating him to no end.
Forsythe came off the bench on Friday and knocked in the go-ahead run with a pinch-hit single as the Padres came back for a 4-3 victory over the Braves at Turner Field.
"It felt fine for a while, but it's been back now for a little while," Forsythe said. "We're trying to find a way to help it. But the only way to really do that is to take time off."
Forsythe has only appeared in six of the team's first 10 games this month and has 10 at-bats due to the injury, one that has him at a loss for what to do next.
"It's a rare case that it comes back," Forsythe said. "The doctors are still trying to figure out what's going on."
Forsythe suffered a torn plantar fasciitis in a Spring Training game during the final week of March, which landed him on the 15-day disabled list and later the 60-day DL to make sure he got enough time off for the injury to heal. Initially, he felt good, too. But now the pain is back.
"I've got to knock this out, I can't take it to another Spring Training," Forsythe said. "... I want to have a healthy year. The biggest priority right now is to make sure the foot is 100 percent going into Spring Training."
Forsythe has given thought to playing this winter to get some at-bats, but he's nearly certain now that won't happen as he's looking at a prolonged period where he will rest his foot. Surgery, he said, is an option, though with that procedure, there's no guarantee it will permanently heal his foot.
"[Winter ball] was definitely a consideration," Forsythe said.
Forsythe is hitting .213 with five home runs and 16 RBIs in 207 at-bats. He's played second base, third base, shortstop and even the outfield this season.
Corey Brock is a reporter for MLB.com. Keep track of @FollowThePadres on Twitter. This story was not subject to the approval of Major League Baseball or its clubs.