Hot-hitting Freeman nearing 100-RBI mark
Hot-hitting Freeman nearing 100-RBI mark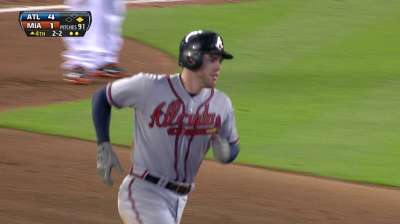 ATLANTA -- Freddie Freeman's two-run home run on Thursday afternoon in Miami secured the 24-year-old first baseman's third consecutive 20-homer season in his young career, but it also brought Freeman just two RBIs away from his first 100-RBI season in the big leagues.
Freeman has been a stalwart in the middle of the Atlanta lineup since the beginning of the 2011 campaign, but his steady production this season has been highlighted by an impressive uptick in the success he has found at the plate in high-leverage situations. His .423 batting average and 1.199 OPS with two outs and runners in scoring position represent marked improvements from slightly more human marks in his first two years as a regular -- only Miguel Cabrera and Allen Craig have hit for a higher average in that situation this season.
"For me, when the game's on the line, there's a handful of guys that you want at the plate, and he's one of them," manager Fredi Gonzalez said. "He can take you out of the ballpark like he did yesterday, or he can flip a base hit to left field and get a big RBI that way. He's a guy that puts the ball in play, so good things happen when you do that."
Freeman's heading into Friday night's series opener against the Padres put him third among National League hitters, behind Arizona's Paul Goldschmidt and Cincinnati's Brandon Phillips.
"He's just a good hitter," Gonzalez said. "He's got a great approach -- he keeps it simple, really. If you look at his swings, there's not a double-toe-tap with a high knee and a finish. No, it's a pretty basic, pretty simple swing, and it's quick. He's got great range. It doesn't have to be a strike. If it's that far outside or that far inside, he can cover it."
While hitters are hardly in control of how many runners they have the opportunity to drive in on a particular trip to the plate, Freeman's knack for making the most of his appearances in critical situations is hard to ignore. He leads the Braves by a wide margin in win probability added, an aggregate measure of how the result of each of a player's at-bats affects his team's probability of winning a particular game. Freeman's 5.1 WPA this season is nearly double that of rookie Evan Gattis, who sits second on the team with a 2.6 WPA.
Eric Single is an associate reporter for MLB.com. This story was not subject to the approval of Major League Baseball or its clubs.