Hale excellent in debut, but Braves bullpen falls flat
Hale excellent in debut, but Braves bullpen falls flat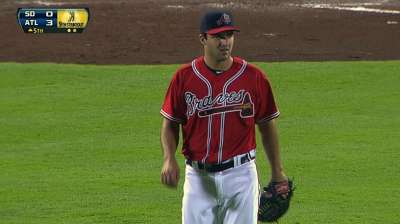 ATLANTA -- David Hale turned in a Major League debut that dreams are made of, submitting a record-setting performance for his childhood team at the ballpark where he grew up watching games. But a shaky night for the bullpen ensured the rookie would have to wait to collect his first victory on another day.
A late rally denied Hale a win, as Padres pinch-hitter Logan Forsythe's RBI single off reliever Scott Downs in the eighth inning capped a four-run comeback off the Atlanta bullpen and sent the Braves to a 4-3 loss in Friday night's series opener at Turner Field. With the Nationals' victory on Friday, the Braves' magic number for clinching the National League East held at six as Atlanta remained winless against San Diego in four tries this season.
Hale set a franchise record with nine strikeouts in his Major League debut, surpassing the previous record of eight shared by Kenshin Kawakami in 2009 and Bob Dresser in 1902. The suburban Atlanta native scattered four hits over five scoreless innings and left with a 3-0 lead in front of what he estimated were over 100 friends and family members in attendance, many from just up the road in Marietta, Ga.
"David was outstanding," manager Fredi Gonzalez said. "We couldn't ask any more, really. Couldn't have been a better script. He was outstanding, and I think he was right up there at 90 pitches, and that's what we were targeting him to throw. Believe me, I think he'll wake up tomorrow probably thinking he threw 150 [pitches] because of it being the first time in the Major Leagues."
"Nerves that you have when you go on the field -- I can't imagine what it's like to be a starting pitcher making your debut," catcher Brian McCann said. "A position player, I think it's a little different, but a pitcher, all eyes are on you every pitch, so I tip my hat to him. He came out and battled and pitched about as well as you can pitch."
Hale's performance allowed the Braves time to settle in against Padres starter Ian Kennedy, who held the Braves hitless through the first three innings before surrendering a pair of towering home runs to Justin Upton and McCann in the fourth. Upton took the first pitch of the fourth inning, a belt-high changeup, over the left-field wall for his team-leading 25th home run. After Freddie Freeman's opposite-field single, McCann launched an 0-2 pitch deep to right field for his 20th home run, securing the veteran catcher's sixth season with at least 20 home runs.
The Braves threatened to pad their lead in the sixth inning thanks to consecutive singles by Upton and Freeman, but Evan Gattis struck out and McCann ripped a line drive back to the mound that Kennedy was able to snag in self-defense and easily double off Upton at second base to end the threat.
"That ball might've been hit harder than the home run," Gonzalez said. "That ball gets up the middle, maybe splits a gap, and we get a couple of add-ons, but that's just tough luck for us."
Given a 3-0 lead, the Braves bullpen could not stop a San Diego comeback that began in the seventh, even with the recent return of key arms Jordan Walden and Scott Downs from injuries. The Padres strung together three consecutive singles off reliever Luis Ayala to load the bases, pushing two of those runners across thanks to Jesus Guzman's infield single and a sacrifice fly off the bat of Chris Denorfia. Third baseman Chase Headley ripped Walden's first-pitch fastball to right for a game-tying solo home run to lead off the eighth.
San Diego first baseman Tommy Medica drew a one-out walk off Walden and took second on a wild pitch, setting up Forsythe's two-out single two batters later off Downs, who was making his first appearance since fracturing a finger on his right hand on Sept. 7. In all, the Braves used six relievers over the final four innings to attempt to cover for Hale's short start.
"Our bullpen's a really good bullpen," Gonzalez said. "Sometimes it's hard to cover that many outs before you get to [Craig] Kimbrel, so that didn't happen."
Hale employed a biting slider to strike out fellow Princeton alum Will Venable to begin his night, then ran into some trouble as Denorfia and Jedd Gyorko found holes with back-to-back singles to put runners on the corners. The 25-year-old right-hander was able to refocus, striking out Headley on three pitches and powering a 92-mph fastball by Kyle Blanks to end the first inning.
"It kind of just made me relax a little bit," Hale said. "After that first pitch, I settled down and just let what I've been doing take over."
After a 23-pitch first, Hale employed his sinker to work quickly through the second and third frames, with Denorfia's third-inning double off a chopper down the third-base line the only further blemish in his outing until Venable sent a sharp ground ball off Elliot Johnson's glove and into right field in the fifth.
"He's got a good arm," San Diego manager Bud Black said. "Going in, we read some scouting reports. His arm was a little quicker and I'm sure he was amped up. The fastball had some life to it. There were a few at-bats where we may have helped him by going outside the strike zone."
Hale's night ended with a harmless groundout off the bat of Denorfia to end the fifth, exiting after 87 pitches to a rousing hand from the hometown crowd. Along the way to the record books, Hale made quite the case to get another shot down the stretch as the Braves work to preserve their rotation.
"It was a dream come true, it really was," Hale said. "I had so much adrenaline and emotion that I'm just happy it turned out that way."
Eric Single is an associate reporter for MLB.com. This story was not subject to the approval of Major League Baseball or its clubs.