Bullpen's collapse spoils strong start from Redmond
Bullpen's collapse spoils strong start from Redmond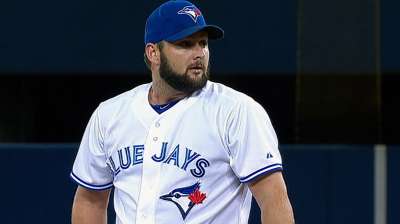 TORONTO -- Manager John Gibbons has been known for his ability to maximize his bullpen, but on Friday night at Rogers Centre, he may have overplayed his hand.
Blue Jays starter Todd Redmond was twirling a gem into the seventh inning vs. the Orioles, but he was surprisingly removed with a three-run lead, a man on third and one away.
Dustin McGowan entered in his place and proceeded to allow the lead to evaporate, with Steve Delabar allowing the final blow on a home run from Chris Davis in the eighth as the Blue Jays fell, 5-3, to the Orioles.
"Good question," Gibbons said when asked why he made the move to pull Redmond. "I know my guys pretty good, and the plan was there that if he ran into any trouble, that I was going to go get him. We had our guys, and McGowan's one of the hottest guys lately. It backfired, but that was the plan."
When he was removed, Redmond had allowed just three hits, struck out seven and had thrown only 75 pitches in what was easily his best outing of the season. The right-hander had also pitched a career-high 6 1/3 innings and had lots left in the tank.
Gibbons, however, made the move to bring in his seventh-inning man in McGowan to help preserve the three-run lead.
The hard-throwing right-hander promptly allowed the inherited runner, Adam Jones, to score from third on a double by J.J. Hardy. After a walk and a popout, McGowan surrendered a two-run double to Steve Clevenger to tie the game at 3.
Despite the move costing what could have been his fourth win of the season, Redmond wasn't bothered by the manager's decision.
"It's whenever Gibby wants to take me out. It's his choice," Redmond said. "I was just trying to keep the game close so we had a chance to win."
While Redmond provided the solid start the club needed, the return of both Colby Rasmus and Edwin Encarnacion helped boost the offense.
Toronto's wounded duo returned to the lineup from injuries and scored a run apiece, with Rasmus hitting his 19th home run of the season.
Most of their damage came against Orioles starter Jason Hammel, who was making just his second appearance since returning from an injury of his own and wasn't as sharp as Redmond.
Despite giving up just three hits and a walk over five innings, the right-hander saw plenty of hard-hit balls, with two of them leading to all the Toronto runs.
In the fourth, Adam Lind drilled a two-run home run into the first deck in right field to put the Blue Jays up, 2-0. It was the 20th homer of the season for the Blue Jays' first baseman, the fourth time he's accomplished the feat in his career.
An inning later, Rasmus proved his oblique injury was a thing of the past as he hit a home run off Hammel into the Orioles' bullpen in right to extend the Toronto lead to 3-0.
While McGowan's seventh-inning blowup let the lead slip away, the Blue Jays did have one more good opportunity to score in the bottom half of the frame.
Brett Lawrie reached third with one away, but Baltimore reliever Tommy Hunter struck out Moises Sierra and J.P. Arencibia to end the threat.
Delabar then allowed Davis' 50th home run of the season in the eighth to put the Orioles up for good.
"It was a good pitch by Delabar, but he just hit the bottom of the ball and he's so strong that he back-spinned it enough to get it out," Hammel said. "It's a good hitter's ballpark. But to hit a pitch like that, it's hats off to him, he's been doing it all year."
"I knew I barreled it up, but I kind of just tried to go the other way with two strikes," Davis said. "I've faced Steve a few times and you can't look for his split as hard as he throws. I was just trying to put a good swing on it and stay through it."
Davis' homer completed the comeback, spoiling another solid outing from Redmond. The 28-year-old rookie has impressed since becoming a starter as he continues to try to make an impression at the big league level.
Redmond was called up in May and joined the rotation in July. Since then he's allowed three earned runs or fewer in all but one of his 11 starts, with a 4.18 ERA and 62 strikeouts in 56 innings.
Redmond was claimed off waivers from the Orioles prior to the start of the season, and his play has come as a bit of a surprise to the organization.
"He really came out of nowhere," Gibbons said. "He caught our attention out there in San Diego, he came in and pitched a few innings in an extra-innings game and ended up getting the loss, but we saw it and we liked it. Since he's had the chance to start he's been a pleasant surprise for us."
With the rotation in 2014 very much in doubt, Redmond hopes that he's making the case for himself to be a part of the equation next year.
"I hope so," Redmond said. "This year, I just look one start at a time, and next year is next year. I hope I am. I just go out there and do my best, and help the team win."
Evan Peaslee is an associate reporter for MLB.com. This story was not subject to the approval of Major League Baseball or its clubs.