Davis' 50th blast helps O's keep pace in Wild Card
Davis' 50th blast helps O's keep pace in Wild Card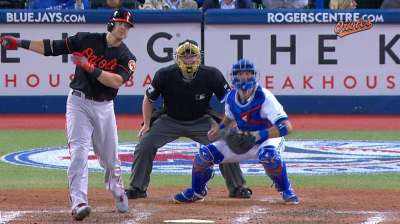 TORONTO -- The pitch, if you were Blue Jays reliever Steve Delabar, was exactly where you wanted it to be. An offspeed pitch down and away, Delabar's 2-2 release in the eighth inning was targeted right for catcher J.P. Arencibia's glove, slowly spinning toward its destination in textbook fashion.
The execution was flawless; the end result was the epitome of Orioles first baseman Chris Davis' wonder. Davis reached the 50-home run mark in dramatic fashion, strong-arming Delabar's changeup over the left-center-field wall to give a scuffling Baltimore club its first lead of the game in Friday night's 5-3 win at Rogers Centre.
The badly needed victory snaps a three-game skid for the Orioles (78-69), who are still hanging on in the American League Wild Card race. Despite playing under .500 baseball (25-26) since the All-Star break, Baltimore remains 2 1/2 games back of Tampa Bay for the second Wild Card spot, with Davis' heroics putting his club back on track.
"It's ridiculous," Orioles starter Jason Hammel said of Davis, who joins Babe Ruth and Albert Belle as the only players in baseball history with 40 doubles and 50 homers in a single season. "A lot of people don't go back and really understand what he did with that pitch. It was a split-finger that was down and away and off the plate. It was a good pitch by Delabar, but he just hit the bottom of the ball and he's so strong that he back-spinned it enough to get it out. It's a good hitter's ballpark. But to hit a pitch like that, it's hats off to him. He's been doing it all year."
And the Orioles never needed it more than Friday night, with Davis' blast propping the club back up and starting a crucial three-city, 10-game divisional road trip off on the right foot.
"I've said it all along, it's nice to have personal goals and to reach your own goals, but when the team is winning, that's what makes it that much sweeter," said Davis, whose first thought when connecting with the ball was that he had just given the Orioles the lead, realizing only later that it was home run No. 50.
"We've really battled the last couple of days," Davis added. "I think we had a couple of games where we were in them and we weren't able to seal the deal, but tonight, it was big to come from behind and get the win."
The Orioles tacked on another run following Davis' milestone with Danny Valencia's two-out RBI single scoring Adam Jones to give closer Jim Johnson, fresh off taking the loss in Thursday's game, a little breathing room. Johnson erased a leadoff single with a double play, picking up his 44th save and putting the finishing touches on a memorable win.
"Some guys hit some cheapies here. He doesn't get any cheapies," Blue Jays manager John Gibbons said of Davis, who is the first player to hit 50 homers since Toronto's Jose Bautista in 2010. "The thing that makes him so good is that he hits them anywhere. Even in the Home Run [Derby] at the All-Star Game, he was the only guy hitting home runs to the opposite field. So, he's dangerous."
Orioles reliever Tommy Hunter got out of a precarious situation in the seventh with a pair of strikeouts, stranding the go-ahead run 90 feet away. Hunter, on after lefty T.J. McFarland allowed one-out singles to Brett Lawrie and Colby Rasmus, fanned Moises Sierra and Arencibia to get out of the jam and navigated through a scoreless eighth before handing the ball over to Johnson.
"You get 27 outs and you are supposed to use all of them, and this team is the epitome of that," Hunter said. "Coming back from being down early in the ballgame, there's no giveup in this team. We can crack a starter anytime. We can crack a bullpen anytime. And being a pitcher, being part of this staff, we just try to keep them within distance where they can strike."
Orioles pitchers have benefited from baseball's best defense all year and Friday was no different, with Hammel watching Jones fire a strike from the warning track to get leadoff man Jose Reyes out at third base in the first inning. Third baseman Manny Machado continued to put on a clinic and help Hammel, who allowed three runs on a pair of homers, get through five innings on a mere 62 pitches.
"I was almost hoping he'd go to third there because I know Jonesy can throw a strike when he needs to and he did that," said Hammel, who got the start in place of Bud Norris, who is dealing with elbow soreness. "And Manny's Manny. He probably took three hits away today."
"That's what I'll go home tonight and think about is defense," manager Buck Showalter said. "That's what allowed us to stay in this thing. They've taken such great pride in their defense."
After mustering up just two singles off Blue Jays starter Todd Redmond, Jones' double to start the seventh inning gave the O's their first extra-base hit. Redmond exited one out later in favor of Dustin McGowan, and the offense finally came alive starting with J.J. Hardy's RBI double.
Ryan Flaherty worked a walk after that and, one out later, No. 9 batter Steve Clevenger -- making his first start for Baltimore -- laced a two-run double into right field to tie it up at 3. Clevenger, raised down the street from Oriole Park at Camden Yards, was acquired in July's trade with the Cubs that also netted Baltimore starter Scott Feldman, and while his RBIs were a feel-good moment, the night belonged to Davis.
Asked what he was thinking as he rounded the bases, Davis said: "Thank you, God. It's a humbling feeling to be in the same company with the guys I'm in. It's one of those things where you appreciate it and move on."
Brittany Ghiroli is a reporter for MLB.com. Read her blog, Britt's Bird Watch, and follow her on Twitter @britt_ghiroli. This story was not subject to the approval of Major League Baseball or its clubs.