Kendrick can't control red-hot Nats in DC
Kendrick can't control red-hot Nats in DC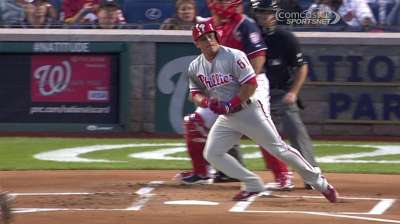 WASHINGTON -- The Phillies already trailed the Nationals by three runs when Washington's Wilson Ramos stepped to the plate against reliever Luis Garcia in the fifth inning on Friday night. With the bases loaded and one out, Ramos smoked a grounder back up the middle that hit Garcia's foot and caromed so high in the air that it left the frame on the TV broadcast. By the time it returned to Earth, two runs had scored.
That's the kind of night it was for the Phillies at Nationals Park.
Opening a quick three-game road trip, Philadelphia came in having won five of its previous six, but couldn't overcome a surging Washington club trying to rally for a Wild Card berth. The Phillies missed opportunities at the plate and endured another poor outing by Kyle Kendrick in a 6-1 loss that saw the Nationals drive in four runs with three infield hits.
"Through five innings, we had men on third base, less than two outs, didn't get anybody in," Phillies interim manager Ryne Sandberg said. "They got some guys on base and infield hits and balls not even getting out of the infield and were getting runs in. It was a big difference and it added up."
The Nationals won their seventh straight to move within 4 1/2 games of the Reds for the second National League Wild Card spot. They also took their fifth straight home contest from the Phillies, who were spared official elimination from the playoff chase by Cincinnati's loss.
It was a frustrating night, offensively, for the Phillies, coming off a 10-run outburst against the Padres on Thursday. They faced Ross Ohlendorf instead of All-Star Stephen Strasburg -- who was scratched with right forearm tightness -- but managed only one run over five innings against Ohlendorf (4-0). They left six runners on base, all in the first six frames.
The Nationals got some good fortune to cash in their runners, but they also made plenty of solid contact against Kendrick (10-13), who surrendered six runs on eight hits over 4 1/3 innings, with two walks and three strikeouts. Ramos and Ryan Zimmerman both blasted solo homers off Kendrick, whose ERA is 6.45 over his past 14 starts.
"I just didn't do my job tonight," Kendrick said. "Didn't give us a chance to win, didn't pitch deep into the game. … Obviously, it's been a rough second half."
Sandberg said that Kendrick's two-seam fastball has been flatter since the All-Star break, not exhibiting the sinking action that allows him to get ground-ball outs and escape jams with double plays. While there were signs of improvement on Friday, with the Nationals getting on top of some balls, Kendrick wasn't getting any breaks.
Washington tied the game at 1 in the first on Ian Desmond's two-out infield single, made possible when third baseman Cody Asche's throw pulled Kevin Frandsen off first. Desmond added another run-scoring infield hit in the fifth, a high bouncer to the left side with the bases loaded. Kendrick exited after that, giving way to Cesar Jimenez, who struck out Adam LaRoche. Garcia then came on and gave up Ramos' hit that scored Jayson Werth and Bryce Harper to make it 6-1.
"Yeah, we're getting a few breaks now," Nationals manager Davey Johnson said. "The ball hit by Ramos went off the pitcher's foot, went up about three stories high. Nobody knew where it was. And Bryce was running hard, that was great."
The Phillies got their lone run in the first, when Carlos Ruiz continued his hot hitting with an RBI single to left field that scored Cesar Hernandez. But Ohlendorf struck out Darin Ruf and Asche with two runners aboard to escape further damage, and he held the Phillies scoreless for the rest of his outing.
It wasn't for a lack of opportunity. The Phillies got a hit batter, a walk and two passed balls in the fourth, but Frandsen grounded into an inning-ending 6-4-3 double play. In the fifth, Freddy Galvis lost a potential leadoff double when he was tagged out after sliding past second base, giving Harper the first of two assists from left field. Kendrick followed with a double, and Hernandez singled to put runners on the corners, but Jimmy Rollins fouled out and Chase Utley lined out to center.
Andrew Simon is a reporter for MLB.com. Follow him on Twitter @HitTheCutoff. This story was not subject to the approval of Major League Baseball or its clubs.