Nats inch closer to Reds with seventh straight win
Nats inch closer to Reds with seventh straight win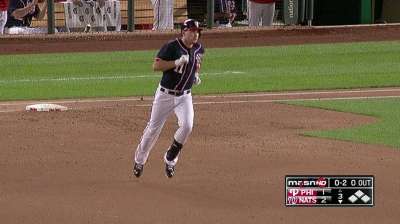 WASHINGTON -- Nationals manager Davey Johnson insists that he didn't peek at the out-of-town scoreboard on Friday night. Not once.
But as the Nationals defeated the Phillies, 6-1, and crept closer to the second National League Wild Card spot, Johnson certainly knew what a Reds loss in Milwaukee could do to improve his team's chances. The Nationals have won seven straight, but they still need help.
So when he heard that Cincinnati was losing, the 70-year-old skipper let out a sly grin.
"Oh," he said, "that's too bad."
The Nationals have made a point of controlling what is within their control, and over the past week they've certainly done that. Friday night's win was their 18th in 23 games. Since being swept at home by the Braves in early August, the Nationals are a Major League-best 24-9.
With Cincinnati's loss, Washington pulled to within 4 1/2 games of the second Wild Card spot. But, that still doesn't mean they can afford to watch the scoreboard.
"I think when you start looking at that kind of stuff, that's when you start thinking about things too much," Ryan Zimmerman said. "We just got to keep doing what we're doing. … We've done it well for a week now, but it's not easy to win seven, eight, nine, 10 games in a row. Just got to keep grinding."
After enduring four months during which the ball rarely rolled their way, the Nationals are finally getting a little bit of luck. They drove in four runs on infield singles Friday night, in addition to solo home runs by Zimmerman and Wilson Ramos.
On one such play, Ramos hit a hard line drive directly at the pitcher's mound. The ball ricocheted and flew 20 feet into the air. Phillies reliever Luis Garcis looked around, baffled, as Jayson Werth and Bryce Harper came around to score.
"You can't get lucky if you don't swing," said Ian Desmond, who had two RBIs on two infield singles. "We've had our share of people getting lucky against us. You can call it lucky, you can call it whatever you want, but runs are runs."
Ross Ohlendorf started Friday in place of Stephen Strasburg, who was unexpectedly scratched with tightness in his right forearm.
While Ohlendorf couldn't replicate Strasburg's buckling curveball or 98-mph fastball, the 31-year-old was solid, allowing just one run on five hits over five innings. The Nationals are 6-0 in Ohlendorf's six starts this season.
"I've been fortunate when I've pitched, we've scored a lot of runs," Ohlendorf said. "I feel really good about the job I've done to help us have the season that we're putting together right now. Obviously, we still have a good chance to make the playoffs the way we're playing. Wins are all important."
Ohlendorf worked out of jams in the first, fourth and fifth innings to limit the Phillies to one run. He wasn't spectacular, but the confident Nationals' lineup didn't need him to be.
"When you're winning games in a row, the whole team is doing things that are helping you win," Zimmerman said. "It's kind of contagious and kind of rubs off on whoever is out there. Ross has been great for us all year. From the time he came up as just kind of a long guy and started a few times, he's done everything we asked of him and more."
Ramos broke a 1-1 tie in the second inning with a solo homer to the visitor's bullpen, his fifth home run in nine games. Then Zimmerman tacked on another run with a solo shot of his own in the third, his ninth homer in 11 games.
Harper could do nothing but laugh in awe of Zimmerman's recent power display.
"I thought it was awesome," Harper said. "[Zimmerman] is locked in right now and it's exciting to watch. Hopefully, he can keep it going through September."
Harper made a few exciting plays of his own Friday night, though this time the 20-year-old saved runs instead of scoring them. In the fifth inning, he threw out Freddy Galvis at second base from foul territory in shallow left field. In the sixth, Harper threw out Carlos Ruiz at second -- this time from the warning track.
"Both those, you'd think they're sure doubles. Back to the wall, and make perfect throws," Johnson said. "It's good to take his mind off hitting. Give him something else to do."
With another win, the Nationals kept their playoff hopes alive for one more day. Their chances are still slim, but the hope is there.
"We've still got a chance," Zimmerman said. "We just have to keep going out there and playing, and see what happens. That's all we can do right now, win each game that we can, and somehow sneak in."
Tom Schad is an associate reporter for MLB.com. This story was not subject to the approval of Major League Baseball or its clubs.