Verlander paces Tigers with magic No. at 10
Verlander paces Tigers with magic No. at 10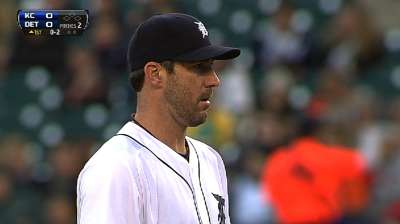 DETROIT -- All is right in Justin Verlander's world. The right-hander, who has tormented the Royals until this season, was back to his usual ways. With the help of Prince Fielder's bat, Verlander and the Tigers rolled to a 6-3 win on Friday night at Comerica Park.
Verlander struck out seven in 6 2/3 innings, allowing three runs on nine hits. He had been 0-3 in five previous starts against the Royals after entering the season with a 15-2 career record against them.
"I felt good, stuff was good," Verlander said. "That was the main thing I've been working on is getting my stuff back to where it needs to be and worrying about executing it and honing it in."
Along with focusing on hitters, Verlander was able to limit the speedy Royals, who lead the Majors with 139 stolen bases. In the fourth inning, Emilio Bonifacio reached on a single and was thrown out attempting to steal second by Alex Avila. An inning later, Jarrod Dyson bunted for a single, and was picked off on Verlander's fourth attempt over to first base.
"It was one of those situations where a guy bunts his way on with two outs, on a ball that was just borderline fair or foul," Verlander said. "He was kind of toying with me at first base, and I caught him. Obviously that was uplifting."
Verlander has set a deadline to be at his best by the start of the postseason and admitted he's getting "pretty doggone close" to where he wants to be.
"Same old Verlander, he competes, he comes at you, he mixed [his pitches] well," Royals outfielder Alex Gordon said. "But today, he threw a lot of fastballs and came right at us, and we just didn't do enough to support [Royals starter Bruce Chen]. We've seen him plenty of times, we know what to expect."
The Tigers reduced their magic number to 10 for clinching their third straight American League Central title, and they hold a six-game lead over the second-place Indians.
With the game tied at 1 in the fourth inning, Miguel Cabrera hit a leadoff double to right-center. Fielder followed by drilling a 2-0 changeup into the right-field seats, giving the Tigers a 3-1 lead. Fielder's 24th home run pushed him above 100 RBIs, his sixth year with at least that many.
"We know what he's capable of doing once he gets going on a roll," center fielder Austin Jackson said. "He gets pitched really tough with the type of power he has. He's one of those guys, at any given moment, he can bust out."
This month, Fielder is hitting .405 with three home runs and 10 RBIs. While the numbers are looking better for the slugger, who has struggled at times this season, Fielder isn't worried about his averages, home runs or RBIs.
"I'm over stats," Fielder said. "I'm into playing hard, and if I'm healthy, that's my main stat. I'm out there playing every day and I think that's all you can ask for."
Detroit added three insurance runs in the fifth inning. With Avila on first, Jackson hit a ground-rule double to left. Next, Torii Hunter hit an opposite-field single to right, scoring Avila and Jackson. After an intentional walk was issued to Cabrera and a balk by Chen, Fielder singled to right, scoring Hunter and stretching Detroit's lead to 6-1.
It was quite the difference for the Tigers' offense after being held to two runs over seven innings in Chen's last start on Sunday. The veteran gave up five earned runs on seven hits in just 4 1/3 innings in this loss.
"It's tough, but they prepared themselves really well," Chen said. "They have the two best hitters in the Majors and you can't make mistakes, you can't leave the ball up and if you do, you're going to pay, and today I didn't make my pitches and I paid for it."
The Royals scored two runs in the sixth inning with a two-out RBI single by Billy Butler and an RBI double by Salvador Perez.
Drew Smyly relieved Verlander in the seventh and pitched a scoreless two-thirds of an inning with two strikeouts. In the eighth inning, Kansas City loaded the bases with two walks and a hit batsman off reliever Jose Veras. But with two outs, closer Joaquin Benoit came on and struck out David Lough to end the threat. Benoit added a scoreless ninth to earn his 19th save.
"I really don't like to have four-out saves, but obviously there's a lot at stake," manager Jim Leyland said. "I just felt like it gave us the best chance to win the game."
For Verlander, it was a chance to beat a team that's been tough against him all year, but also an opportunity to inch another step closer to the postseason.
"Obviously it's nice whenever you're playing a team that's trying to catch you," Verlander said. "To be able to put a little bit more separation between you and them is key."
Bobby Nightengale is an associate reporter for MLB.com. This story was not subject to the approval of Major League Baseball or its clubs.