Bonifacio helping to set table in No. 2 spot
Bonifacio helping to set table in No. 2 spot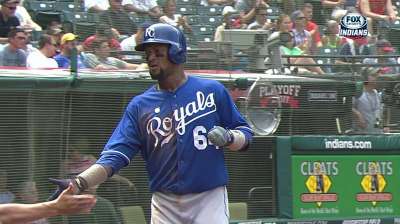 DETROIT -- No doubt about it, Emilio Bonifacio has put some bounce into the Royals' lineup since he took over the No. 2 spot on Aug. 23.
Prior to Friday night's game against the Tigers, Bonifacio had hit in the two-hole in 19 games, in which the Royals went 13-6. Bonifacio had a .329 average with a .383 on-base percentage and scored 15 runs. He's also had six of his 13 Royals steals in that span.
"He's added some dimensions to it, for sure," manager Ned Yost said. "Created more run-scoring opportunities for our run-producers, has really been swinging the bat great, getting on base, been a bit of a catalyst for us at the top of the order."
Bonifacio had a .218 average when he was acquired in a trade with the Blue Jays.
"He was swinging at a lot of pitches," Yost said. "Pete [hitting coach Pedro Grifol] got him right from the beginning and got his game plan in order, and he's done a real nice job of adhering to it."
Bonifacio, who played the outfield and third base right after being acquired, has been the primary second baseman since assuming the No. 2 position in the batting order.
"He's a guy that definitely loves to play every day," Yost said.
Dick Kaegel is a reporter for MLB.com. This story was not subject to the approval of Major League Baseball or its clubs.