Verlander is Royals' speed bump in WC race
Verlander is Royals' speed bump in WC race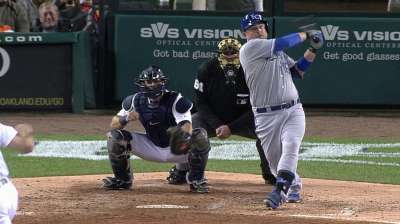 DETROIT -- Five times this season the Royals derailed Detroit's Justin Verlander. Consider the big right-hander back on track.
Verlander, as in days or yore, prevailed in his sixth 2013 matchup with Kansas City as the first-place Tigers put a crimp in the Royals' playoff aspirations, 6-3, on a cool Friday night with a sellout crowd of 40,389 at Comerica Park.
Not that Verlander was perfect, but he was good enough in his 6 2/3 innings to improve his record to 13-11 and move the Tigers back to eight games ahead of the Royals in the American League Central.
The Royals also fell 3 1/2 games behind Tampa Bay in the race for the second AL Wild Card spot. Three of the four teams ahead of them -- Tampa Bay, Baltimore and Cleveland -- all won on Friday night. Only New York lost.
"It only hurts if we let it hurt us," losing pitcher Bruce Chen said. "We're going to try to do everything we can to come back tomorrow and get a win."
Verlander gave up three runs on nine hits -- two each by Salvador Perez and Billy Butler -- and no walks with seven strikeouts. He was 15-2 against the Royals in previous years, but before this victory he was 0-3 and the Tigers had lost all five games he started. However, it should be noted that the Royals pounded him harshly just once.
"Same old Verlander, he competes, he comes at you, he mixed well," the Royals' Alex Gordon said. "But today he threw a lot of fastballs and came right at us, and we just didn't do enough to support Bruce. We've seen him plenty of times, we know what to expect."
On this 57-degree evening, Verlander zipped through the first three innings with just a Butler single interrupting him. The Royals got one run in the fourth inning when Perez's single to the left-field wall scored Eric Hosmer.
The Tigers scored one run in the first inning against Chen. Austin Jackson reached third on a leadoff double to left field and an error charged to Gordon, his first this season. It was a tough error, given his running attempt to snag the ball as it rolled toward the wall failed.
"I was trying to make a play to keep him at first and it was just out of my reach. I was just trying to make a good play and it got by me," Gordon said. "A fast guy like Jackson, I could've just tried to keep him at second and played it off the wall."
Jackson scored as the next batter, Torii Hunter, grounded out. Gordon had not had an error since Sept. 27, 2012, also at Detroit.
After the Royals tied the score, the one-two punch of Miguel Cabrera and Prince Fielder assaulted Chen in the bottom of the fourth. Cabrera got a double that right fielder David Lough, after a long run toward center field, came close to catching.
"He went a long way for it and it would've been a nice play, but I still think that's a play that he can make," Royals manager Ned Yost said.
Fielder followed by driving a 2-0 pitch over the right-field gate near the 330-foot mark, well above a leaping Lough.
"I threw a changeup, it was an 0-2 count and I was trying to make a good pitch," Chen said. "I left it out over the plate and he's strong, and he'll hit it hard."
By the next inning, the Tigers had upped their lead to 6-1 and disposed of Chen. Their fifth began with a walk to Alex Avila and, after an out, Jackson hit a ground-rule double. Hunter also doubled, scoring two runs, and Cabrera was intentionally walked.
At that point, Hunter gallivanted off to third base, causing catcher Perez to point in that direction and Chen to hurry off a throw. There was a bit of confusion, but the umpires huddled and decided that Chen had balked to advance both runners. Fielder followed with an RBI single to right and Chen was pulled from the game. Another left-hander, Francisley Bueno, took over and got the final two outs.
It was a stellar night for the Royals' bullpen. Bueno followed with a perfect sixth and Louis Coleman and Donnie Joseph each added a 1-2-3 inning. So the relievers combined to retire all 11 batters they faced with seven strikeouts. Joseph struck out the side in the eighth.
The Royals stirred again in the sixth and picked up two runs after Gordon's leadoff single, two outs and a Verlander balk. Gordon scored on Butler's single, making him 30-for-68 (.441) in his career against Verlander.
"I've found some holes," Butler said.
Perez doubled deep enough to right field that Butler scored from first for a 6-3 score. That gave Perez two RBIs in the game and a big league-best 22 since Aug. 23. He's also batted .394 (26-for-66) in that span.
After that there was nothing. Verlander left after two outs in the seventh. He gave up three runs on nine hits, but walked no one and struck out seven.
The Tigers effectively negated the Royals' speed game. Catcher Avila threw out Emilio Bonifacio stealing in the fourth inning. After Jarrod Dyson got a bunt single in the fifth, with third baseman Cabrera snatching at the ball as it rolled down the foul line, Verlander picked him off first base.
"It was one of those situations where a guy bunts his way on with two outs, on a ball that was just borderline fair or foul," Verlander said. "He was kind of toying with me at first base, and I caught him. Obviously that was uplifting."
The Royals' last chance came in the eighth when they filled the bases with two walks and a hit batter but failed to score.
"We had the bases loaded there in the eighth and we couldn't capitalize, but they've got a good bullpen, too," Yost said.
Dick Kaegel is a reporter for MLB.com. This story was not subject to the approval of Major League Baseball or its clubs.