Eight pitchers lend an arm in Tribe victory
Eight pitchers lend an arm in Tribe victory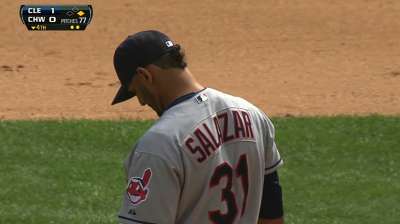 CHICAGO -- It took eight pitchers to get it, but the Indians notched another victory over the White Sox on Friday afternoon to keep pace with the Rays for the second Wild Card spot in the American League.
After rookie starter Danny Salazar reached his pitch limit with two outs in the fourth, the Tribe's bullpen took over and tossed 5 1/3 solid frames in a 3-1 victory over Chicago at U.S. Cellular Field, keeping Cleveland 1 1/2 games back of Tampa Bay, which beat Minnesota, 3-0.
Nick Hagadone, Bryan Shaw, Cody Allen, Marc Rzepczynski, Matt Albers and Joe Smith combined for 4 1/3 innings of relief to get the ball to closer Chris Perez, who picked up his 24th save despite allowing the tying run to reach base.
"The last three days we were able to stay away from Shaw, Cody, Smith, Perez, everybody," Indians manager Terry Francona said. "So you feel like you can go to them and you're not asking too much or asking them to do more than they should."
Allen got into trouble when he allowed back-to-back singles to open the seventh. But after getting Alexei Ramirez to line out, he gave way to Rzepczynski and Albers, who escaped the jam with a strikeout of Adam Dunn and a Paul Konerko groundout.
"With a base open there I'm trying to make some pitches maybe right off the plate or just on," Albers said of his approach against Konerko. "I went with a 3-1 slider away and then came back with a sinker on 3-2. I knew I had a base open, so I was trying to make pitches that they couldn't really put good swings on."
"Albers was huge today, obviously," Francona said. "And Zep, he fell behind and climbed his way back in to get a big strikeout."
Salazar struck out nine batters over 3 2/3 scoreless innings, allowing four singles and walking two in his shortest outing of the season. He departed after throwing 78 pitches (51 strikes).
It was the second consecutive start in which Salazar neared his 80-pitch limit -- set because he had Tommy John surgery in 2010 -- before the fifth inning.
"For the most part [Salazar was] really good," Francona said. "There was good life on his fastball, and he worked ahead. I thought once he got ahead of some hitters, he threw some balls out of the zone. ... He tried to throw it a little too much instead of just pitching ... but he had nine strikeouts in less than four innings. There's a lot to like."
The right-hander has compiled 54 strikeouts in 40 2/3 innings over his first eight career starts. Over his most recent five outings, he has posted a 1.57 ERA (four earned runs in 23 innings pitched).
"Today I felt good," Salazar said. "I threw too many pitches, but right now I'm just doing what I can do with what I've got out there. ... I'm attacking hitters. ... I was attacking more with my fastball today. I didn't use too many off-speed pitches. I threw a couple of sliders, but mostly fastballs."
The White Sox scored their only run on a Konerko RBI single in the fifth off Shaw, who earned the win.
The Tribe got on the board in the fourth on an RBI single by Drew Stubbs against White Sox starter Hector Santiago. The Indians added two more runs in the fifth against reliever Jake Petricka on a Ryan Raburn RBI double and a Michael Brantley sacrifice fly.
"I just got a good pitch to hit and was able to come through," said Raburn, who extended his hitting streak to six games and has 14 RBIs in that stretch. "You can't get the job done all the time, but we just try to put ourselves in the best position, and I was able to come through there."
"Today we didn't have a ton of runs, but we made their starter throw a lot of pitches, and we got him out of the game," Francona said of Santiago, who went four innings. "And sometimes that's the way you win. You get into the bullpen, and we had chances to score it seemed like every inning. He was pitching out of the stretch, and finally Stubby blooped one in there and we got a run and we manufactured some runs and made it hold up."
Santiago said he felt like he pitched well but that Tribe hitters made him work.
"I got myself into good pitcher's counts and tried to execute pitches, and they didn't chase," the left-hander said. "They battled, and I didn't make the better pitches."
The Indians have won a franchise-record 10 straight games against the White Sox. That is the longest active streak for a Major League team against a single opponent and the longest since the Yankees' 10-game win streak against the Blue Jays last month.
The Tribe has also won 22 of its last 39 road games after beginning the season 12-21 away from Progressive Field.
Albers said the ability of the Tribe's relievers to come into tough situations with runners on base and escape trouble boded well for the club in its effort to compete in October.
"It's big," Albers said. "It can really help your confidence. ... If you leave a couple guys on base, you never want to do that, but when you have guys behind you that come in and pick you up, you feel good about it. Just like with Chris Perez getting out of the ninth with a couple of guys on, I think it builds confidence."
Manny Randhawa is an associate reporter for MLB.com. This story was not subject to the approval of Major League Baseball or its clubs.