Pitching decisions still to be made by Marlins
Pitching decisions still to be made by Marlins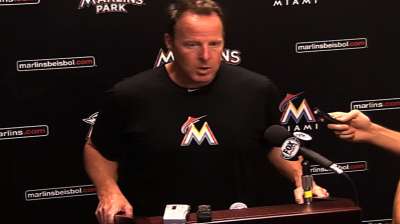 NEW YORK -- Since the All-Star break, the Marlins have gone primarily with the same rotation. Jose Fernandez emerged as the ace, and the rest of the starters were, mainly, Nathan Eovaldi, Henderson Alvarez, Jacob Turner and Tom Koehler.
As the Marlins play out the rest of the season, and look ahead to 2014, the organization believes it has a nice collection of young starters to build around. While these five have regularly thrown, they all won't necessarily be in the rotation at the beginning of next year.
Miami also has some Minor League prospects who are close to being big league ready. Andrew Heaney, for instance, was the team's first-round Draft pick in 2012. The left-hander, who is the club's second-ranked prospect according to MLB.com, finished the season at Double-A Jacksonville, and he will contend for a rotation spot next year.
So will Brian Flynn, the ninth-ranked prospect who is currently in the rotation, Justin Nicolino (ranked third) and Anthony DeSclafani (14th).
Some of the pitchers who have mainly started this season at the big league level may eventually wind up in the bullpen. Believing you can never have too much pitching, the Marlins consider themselves in a favorable position.
"The good thing is we've been able to see Eovaldi, Alvarez and Turner," manager Mike Redmond said. "Tom Koehler has gotten a lot of opportunities to start.
"We've seen these guys a lot. The key is what are these guys going to turn into next year? Do they carry it over? Do they pitch even better? That's the thing with young pitching, you're always going to have that uncertainty.
"With young guys, it takes time to see what you've got and evaluate. I think this year, once we got them healthy, we were able to get them consistent innings. I think we saw what guys are capable of."
Koehler, for instance, gives the team the luxury of being able to start and relieve. Even Alvarez, a mainstay in the rotation, could wind up pitching out of the bullpen someday.
It all depends on how they perform, and how the other young arms do next spring.
"What's Tom Koehler going to be like next year? What's Alvarez going to be like next year? That's the unknown," Redmond said. "The good thing is we've got to see these guys and we can figure out who we like. We like a lot of these guys."
Alvarez and Turner are scheduled to pitch in Saturday's doubleheader against the Mets, with Koehler going on Sunday.
Joe Frisaro is a reporter for MLB.com. He writes a blog, called The Fish Pond. Follow him on Twitter Share This