Fernandez meets former phenom Gooden
Fernandez meets former phenom Gooden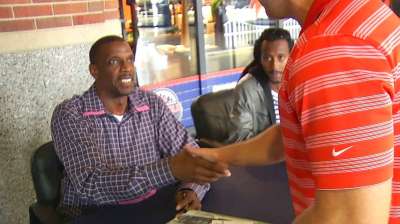 NEW YORK -- Work hard. Stay focused. Don't associate with just anyone.
Those are some helpful tips from Doc to Jose Fernandez.
Dwight "Doc" Gooden, the former Mets great, is among the growing list of people inside the game who enjoy watching Fernandez, the Marlins' rookie sensation.
Gooden was at Citi Field on Friday promoting his book, "Doc." The pitching icon took a few minutes between signing books to talk about Miami's rookie All-Star.
"The main thing with a guy like that is, on the field, continue to work hard and remember what got you there," Gooden said. "Stick around the veterans, and always be a student of the game. There is always something you can improve on. I know he had a great year, but you always constantly challenge yourself to improve. Keep working hard."
Like Fernandez, Gooden broke into the league at a young age. In 1984, Gooden was a 19-year-old who went on to win National League Rookie of the Year.
Fernandez opened the season at age 20, and he turned 21 on July 31. The Marlins right-hander is a frontrunner to be the National League's top rookie.
The two share some commonalities.
Gooden was born and raised in Tampa, and Fernandez settled in Tampa five years ago, after he defected from Cuba.
Like Gooden, Fernandez wears No. 16.
Gooden still has family in Tampa, and his nephew actually played high school baseball against Fernandez, who attended Alonso High School.
"As far as off the field, just understand that a lot of people may approach you," Gooden cautions Fernandez. "A lot of them might not have your best interest."
Gooden likes the energy the Miami rookie brings.
"The main thing that sticks out is his mound presence," Gooden said. "He pitches like he's been there a long time. He's not afraid of the hitters. He likes pitching inside. He has a lot of confidence. I don't think he's cocky. Just a lot of confidence. That's what really sticks out."
Joe Frisaro is a reporter for MLB.com. He writes a blog, called The Fish Pond. Follow him on Twitter Share This