Rosario leads Rockies past D-backs
Rosario leads Rockies past D-backs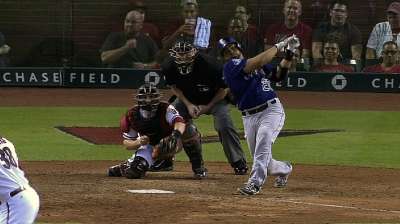 PHOENIX -- For three days last weekend and into Monday, Wilin Rosario sat on the Rockies' bench, unable to help his club as an infected wisdom tooth caused constant throbbing pain in the back of his mouth.
Faced with the option of getting the troublesome tooth pulled and missing five to 10 days to recover or delaying the proceeding and making do with painkillers, Rosario opted for the latter and returned to action on Tuesday despite still being in pain.
Well, in just his second game back, Rosario showed Friday night why he couldn't stand the idea of missing any extended time if he could help it.
The backstop delivered two clutch hits and tied a career high with four RBIs as the Rockies pounded out 16 hits and took down the D-backs, 7-5, at Chase Field in front of 31,713.
"The only thing I like is playing," Rosario said. "It hurts, it's going to bother me every night, but I just want to play. When the season is gone, then I'll deal with it. But for right now, I just want to play, have fun and help my team win."
Rosario certainly did that Friday as he lifted the Rockies to just their second victory in seven games during their current three-city National League West road trip. His first hit gave Colorado an early two-run cushion, and his second gave the club a couple of insurance runs that proved to be valuable in the end.
"His hits came at big times, that's for sure," Rockies manager Walt Weiss said. "He's just a real good offensive player. It's nice to see him finish strong. "
The game was tied at 2 entering the seventh inning before the Rockies sent eight batters to the plate in the frame and pushed across five runs. Corey Dickerson got the rally started by golfing a ball off the ground and into left field for a leadoff double.
"It was a fluke thing, but I'll take it every time," Dickerson said. "I just reacted, it amazed me, too, when I hit it. It hit the sweet spot, I guess. That got the inning going, though, so that was important."
After the next batter, DJ LeMahieu, drove in the go-ahead run with an RBI single, Rosario smacked a hanging curveball from former Rockies pitcher Will Harris into the left-center-field gap for a two-run double. Later in the inning, Charlie Blackmon capped off the rally with a two-run triple off the left-field wall.
"It was good to see the offense perform," Weiss said. "It has been a struggle for us on the road. It's good to see us get some big RBI hits."
Through the early going, it looked as if the Rockies might turn the game into a laugher. Facing D-backs right-hander and Colorado native Brandon McCarthy, the club put six men on base in the first two innings, but managed to plate just two of them, both scoring on Rosario's two-out, two-run single to center.
That, however, was all the Rockies would get off McCarthy as the right-hander held the club scoreless over his final five innings before the offense got going again in the seventh.
Although he only allowed two runs and took a no-decision, Rockies starter Tyler Chatwood played with fire throughout his outing. He put a man on base in each of the five innings he worked and three times allowed a trio of runners to reach in a single frame.
"Chatty has been really good for us all year," Weiss said. "He struggled tonight, so it was good we were able to pick him up."
Still, despite giving up seven hits and issuing a career-high six walks over just 4 2/3 innings, the right-hander avoided the proverbial big inning by inducing two double plays and limiting the D-backs to one extra-base hit.
"We should have had a lot more runs," D-backs manager Kirk Gibson said.
Ahead, 2-1, in the fifth, Chatwood retired the first two batters of the inning before he seemed to hit a wall. The next four D-backs reached, and the tying run scored on a wild pitch before the Rockies finally went to the bullpen. In a bases-loaded jam, Rob Scahill let Chatwood off the hook for more damage by inducing a groundball to end the threat with the score deadlocked, 2-2.
"I was trying to get him through the fifth, but he couldn't quite get there," Weiss said of Chatwood. "I wanted him to get the W."
Following the Rockies' five-run seventh, Miguel Montero hit a three-run homer off Manny Corpas in the ninth to close the gap to two runs, but Rex Brothers stepped in and recorded the final out for his 17th save.
Tyler Emerick is an associate reporter for MLB.com. This story was not subject to the approval of Major League Baseball or its clubs.