Duda's first three-run home run of year lifts Mets
Duda's first three-run home run of year lifts Mets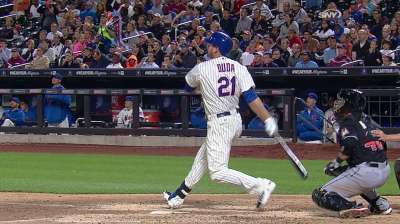 NEW YORK -- Earlier this week, Mets manager Terry Collins publicly bemoaned his team's lack of power. That much is nothing new for the Mets, who have not possessed elite muscle in years. But with David Wright and Ike Davis both sidelined due to injuries, the Mets have struggled even more than usual to hit balls out of the park lately.
So it was refreshing for the Mets to watch two of their more naturally-gifted power hitters, Lucas Duda and Andrew Brown, connect on Friday. Brown's monster solo shot and Duda's three-run blast allowed the Mets to make a winner out of Jon Niese, who pitched into the seventh inning of a 4-3 win over the Marlins at Citi Field.
"That's a big part of the game," Collins said of hitting home runs. "You look at the Nationals when they came in here, and you see what kind of damage can be done when you've got guys in your lineup that can hit home runs. We know Brownie's got some power and he showed it, and to have Lucas step up, and multiple-run home runs -- there's no tradeoff for it."
Despite some strong early pitching, Niese had fallen behind by the sixth, when Marlins starter Brad Hand put two men on base with two outs. That brought up Duda, who smacked his 13th homer over the wall in right. It was Duda's second home run since returning from the Minors on Aug. 25, and his first three-run shot of the year.
"It was just a hanging curveball, and luckily I caught enough of it that it got out," Duda said. "I'm just glad we won. That's the main thing."
"I was feeling pretty good keeping the ball down, throwing strikes, getting ahead," said Hand, who left one batter after serving up Duda's blast. "I didn't finish one pitch. I left the ball up to Duda, and it cost us the game. "
Four innings earlier, Brown tied the game at 1 by blasting a Hand changeup into the second deck in left, one of the longest home runs at Citi Field this season. Though Brown had not been suffering through the same sort of power outage as Duda, he entered the game in a 1-for-19 funk. The former Rockie said it was his longest homer since last year, when he hit a coach's windshield in the Coors Field players' lot.
The blasts moved the Mets from 25th to a tie for 24th in the league with 122 home runs.
"Home runs, especially when you can get multi-run home runs like the three-run shot by Duda, that's huge," Brown said. "When we can take a lead on anyone it's a good feeling, because we haven't done that much as of late."
Facing one of the only big league clubs with fewer home runs than them this season (Miami is last with 88), Niese allowed two of his three runs on Giancarlo Stanton long balls. Those shots sandwiched a Donovan Solano RBI double in the fifth, which gave the Marlins a 2-1 lead.
Other than that, Niese was strong, striking out seven and walking none. Four of the six hits against him went for extra bases, though Niese escaped maximum damage by relying more often on a curveball he mostly abandoned in last weekend's loss to the Indians.
"I felt that my curveball had a little bit more bite to it," Niese said. "You just find out what works, and today the curveball worked a little bit better than it had earlier in the year. For the most part, I was able to throw it where I wanted to today."
It was an ability that, in this game, Hand could not match. There were no guarantees that the Mets would take advantage, and on another night they might not have. But that's the thing about power -- it only takes one or two hits to change the situation in a hurry.
"I think it's certainly something Lucas has got to feel good about right now," Collins said of Duda's blast in particular. "He's a big, strong guy. Everybody expects him to hit homers. I just expect him to drive runs in. I think that swing tonight might really get him started in the last couple weeks. It was a big swing for us. It was a big game for us to win."
Anthony DiComo is a reporter for MLB.com. Follow him on Twitter @AnthonyDicomo. This story was not subject to the approval of Major League Baseball or its clubs.