White Sox unable to reverse fortune vs. Tribe
White Sox unable to reverse fortune vs. Tribe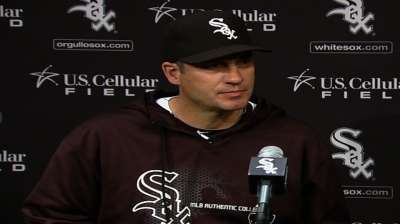 CHICAGO -- Hector Santiago was speaking of his personal performance, an analysis of his 2013 season, if you will, with the following quote delivered after Cleveland's 3-1 victory over the White Sox on Friday afternoon at U.S. Cellular Field.
It is also a sentiment that would sum up the White Sox disappointing campaign as a team, seemingly getting more dismal by the day.
"I feel where I'm at right now is not where I want to be," Santiago said.
The left-hander specifically was referring to high early pitch counts preventing him from working deep into games during his first year as a starter. Santiago (4-9) hurled just four-plus innings and 94 pitches in a game played early because of the Jewish holiday of Yom Kippur that began at sundown. He lasted five innings and 3 2/3 innings in his two previous starts.
So efficiency, consistency and endurance stand as targets for Santiago moving into 2014 off of a successful 2013 effort. Getting better in almost every area of the game remains targets of improvement for the White Sox (58-89).
When they get decent pitching and solid defense, as they did Friday, they don't hit.
Cleveland (79-68) used eight pitchers in a game covering 3 hours, 28 minutes, suggesting a slugfest. Not when the White Sox finished 2-for-12 with runners in scoring position and stranded 13.
"We put together some good at-bats," said White Sox second baseman Marcus Semien, who had two of the White Sox nine hits. "I like where we're going. We've just got to get those big hits. We should be winning games because we're pitching well."
Semien has played in just six games since his September callup, so he might not have full comprehension of the White Sox year-long offensive struggles. Friday's paltry output marked the 74th game in which the White Sox scored three runs or fewer, of which they won 15.
Their record against the American League Central dropped to 22-40, and they fell to 32-50 against opponents above .500 this season.
Cleveland stays in prime contention for the American League's second Wild Card spot, riding a 13-2 overall record against the White Sox and 10 straight wins against the South Siders to keep pace with the Rays and the Yankees.
Bryan Shaw (4-3) earned the victory in relief, but starter Danny Salazar could have gone longer for the Indians based on pure effectiveness. He was on a pitch limit of 80, and despite fanning nine without giving up a run, he was pulled after 3 2/3 innings with two runners on base.
Nick Hagadone, Shaw, Cody Allen, Marc Rzepczynski, Matt Albers, Joe Smith and Chris Perez (24th save) followed Salazar to the mound and shut down the White Sox. But Chicago certainly had its chances.
Robin Ventura's crew had at least two runners on base in every inning but the second, sixth and eighth. It was a rough day for Adam Dunn, who came up with runners on first and second in the first, third, fifth and seventh. He struck out three times and grounded into a fielder's choice in the fifth.
Paul Konerko picked up Dunn in the fifth with a run-scoring single to center, but that would be the only run scored by the White Sox. They threatened in the ninth with Alexei Ramirez's third hit and a Dunn walk from Perez, but Konerko flied out deep to center to end the White Sox 13th loss in 15 games.
"Even in the last inning, guys still get on base and get something going," Ventura said. "We had a couple balls hit -- Paulie hit his well, Jordan [Danks] same thing. We just couldn't cash that one hit in we needed."
"Today we didn't have a ton of runs, but we made their starter throw a lot of pitches, and we got him out of the game," Cleveland manager Terry Francona said. "And sometimes that's the way you win. We got a run and we manufactured some runs and made it hold up."
Jake Petricka replaced Santiago in the fifth after a leadoff walk to Nick Swisher and Jason Kipnis' single. Ryan Raburn doubled home a run, and Michael Brantley hit a sacrifice fly to complete that two-run frame. Drew Stubbs' two-out single off Santiago in the fourth accounted for the first run.
Santiago allowed three runs on six hits, striking out three and walking three. Ventura thought some of Santiago's inconsistency in the strike zone could be because of fatigue, with Santiago's single-season innings high now reaching 142 2/3.
That fatigue idea, and the idea that he was wild, was disputed by Santiago. He appeared ready for his next two starts to finish the season, hoping they would feature better results than his previous three.
"Lately, I feel like I've put pressure on myself to kind of not walk people, and that's getting to me a little bit," Santiago said. "I get to two or three balls, and I'm like, 'Throw a strike,' instead of just pitching. Early in the year, I didn't care if it was 3-2 or 3-0. I have to go out there and pitch."
Scott Merkin is a reporter for MLB.com. Read his blog, Merk's Works, and follow him on Twitter @scottmerkin. This story was not subject to the approval of Major League Baseball or its clubs.