Grand opening: Salty's slam sinks rivals
Grand opening: Salty's slam sinks rivals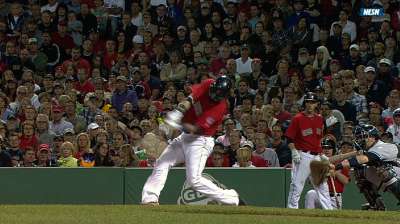 BOSTON -- During this prolific stretch of baseball the Red Sox are in the middle of, the big hit just about always comes. It's just that you never quite know when it will come, or who will deliver it.
In Friday night's 8-4 win over the Yankees, the author of the game's signature moment was Jarrod Saltalamacchia, who swatted a grand slam over the Boston bullpen with one out in the bottom of the seventh.
The shot by Saltalamacchia snapped a tie and set off roars throughout Fenway Park in the latest electric moment of a memorable season.
"That's what is making this season kind of fun," said David Ortiz. "You're not talking about a team that depends on one guy. I know that everybody wants to be careful with myself, but we have plenty of guys doing their thing out there."
The victory lowered Boston's magic number to clinch the American League East to seven.
The Red Sox became the first team in the Majors to hit the 90-win mark this season. While Boston is in prime shape to win the AL East, every game is crucial to the Yankees, who are trailing by two games for the second AL Wild Card.
This one was a crusher for manager Joe Girardi's team, considering they had just come all the way back from a 4-0 deficit.
"We've got the ability to show the resiliency," said manager John Farrell. "They score the two to tie it, and then we build the inning prior to Salty's grand slam. We're getting big hits. It's been spread around. I thought we had a very good offensive approach tonight."
By the time the seventh inning started, Boston was clinging to a 4-2 lead. After John Lackey gave up one-out singles to Brendan Ryan and Chris Stewart, Farrell pulled him at 82 pitches.
"Yeah, John never wants to come out of a game. I respect that about him," Farrell said. "He's an ultimate competitor. Just watching some of the balls they hit the inning prior, and then we get into a situation where the meat of the order is coming up."
Craig Breslow came on and struck out Curtis Granderson, but he then walked Alex Rodriguez and gave up a game-tying two-run double to right-center to Robinson Cano.
The Red Sox then did what they do best -- turning the momentum back on their side.
Shane Victorino led off the bottom of the seventh with a single, and that was all for Hiroki Kuroda, who settled down nicely after a shaky start.
Lefty Cesar Cabral came on and plunked Ortiz. Righty Preston Claiborne was next out of the 'pen, and he walked Jonny Gomes to load them up. Daniel Nava struck out, giving the Yankees hope they could emerge from the threat unscathed.
Saltalamacchia had other ideas, crushing an 0-1 fastball into the bleachers.
"I was really just trying to get a good pitch to hit in the air," said Saltalamacchia. "I knew I had Vic at third, fast guy, so if I put it somewhere out in the air, he was going to be able to score. I saw how he had pitched Nava. I knew he had good stuff. I'd only faced him once, so I didn't have a lot of experience with him. I just needed to get a strike up in the zone to do something with."
After breaking out of an 0-for-21 drought, Saltalamacchia has homered the past two nights.
Saltalamacchia had recently taken five games off to rest his ailing back.
"It was bothering me for a good month, and then that game against Baltimore, I aggravated it a little bit. I tried to play through it for a week, but that last game, I felt like I wasn't helping the team," Saltalamacchia said. "We'd worked too hard and done too much, and I felt it was the right thing to try and get it looked at and take a couple of days off and get it right so I could get back to where I was at and help the team."
Over 6 1/3 innings, Lackey gave up seven hits and four runs. He walked none and struck out three.
Though he ended up with a no-decision instead of a win, Lackey isn't concerned about individual stats -- particularly not at this time of year.
"It's always fun being on a good team," said Lackey. "It's that time of the year. The boys are playing good baseball, getting ready for bigger games coming up."
The Red Sox came out swinging, putting up a four-spot in the bottom of the first against Kuroda. Dustin Pedroia led off with a single. Ortiz belted a double to left. Mike Carp got home the first run with a fielder's-choice grounder. Nava added a two-out RBI single, and Stephen Drew capped the damage in the inning with a two-run double to left.
Lackey gave one back on a solo homer by Ryan to open the third.
The Yankees mounted a rally in the fourth when Cano led off with a single and Pedroia made a rare error on a grounder by Lyle Overbay. Pedroia made up for the miscue with a nice diving stop on a grounder by Ichiro Suzuki, and that got Lackey out of the inning.
While Kuroda did a nice job settling down, the Yankees looked for a big hit that would get them back in the game. Cano came through with a one-out double in the sixth. Alfonso Soriano followed with a single to left, and Overbay's sacrifice fly made it a two-run game.
The Yankees would come all the way back, only to have the Red Sox deflate them.
"Let me tell you something, they've got a very good team over there," said Rodriguez. "They're a team that the most important pitch is strike one. They don't chase, they're extremely disciplined at the plate, they make our pitchers work very hard. They don't make easy outs. They're a handful right now and they're swinging the bat extremely well, but so are we. We feel pretty good about ourselves."
Ian Browne is a reporter for MLB.com. Read his blog, Brownie Points, and follow him on Twitter @IanMBrowne. This story was not subject to the approval of Major League Baseball or its clubs.