Fatigued bullpen spoils wild comeback
Fatigued bullpen spoils wild comeback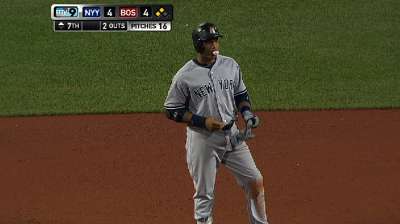 BOSTON -- The Yankees have pushed their relievers hard to get back in the chase for a postseason slot, and that came at a price for manager Joe Girardi on Friday, as he looked down at a lineup card flooded by red ink.
With more experienced options marked as unavailable due to overuse, rookie reliever Preston Claiborne served up a seventh-inning grand slam to Jarrod Saltalamacchia, powering the Red Sox to an 8-4 victory over the Yankees at Fenway Park.
"It hurts pretty bad," Claiborne said. "I know I let the guys down. I know this one's on me."
The loss was the Yankees' 11th in 17 games against the Red Sox this year and dented New York's pursuit of the second American League Wild Card slot, falling two games behind the Rays, who defeated the Twins, 3-0, at Target Field. New York is also a half-game behind the Indians.
"You make your choices and you live with your choices," Girardi said.
Girardi had decided that he absolutely could not use Mariano Rivera, who had pitched in four of the previous five games, and David Robertson also needed a break after throwing 43 pitches in the past two contests.
Adam Warren was also unavailable, having worked in three of the last four games, and left-hander Boone Logan is shelved with a sore left elbow. That pushed Shawn Kelley into de facto closer duty, moving everyone else up on the depth chart for the night.
"We've had to use our bullpen a lot lately," Girardi said. "We've had to use Mo a lot. We've had to use Robbie a lot. When you don't really have those guys, it's different."
The homer, Saltalamacchia's third career grand slam, helped Boston to its 15th win in the last 19 games, the best mark in the Majors over that span. It also wiped out the work the Yankees did to claw back into the game after falling down by four runs in the first inning.
"I knew [Claiborne] had good stuff," Saltalamacchia said. "I'd only faced him once, so I didn't have a lot of experience with him. I just needed to get a strike up in the zone to do something with."
Because of the bullpen situation, Girardi desperately needed to squeeze a lengthy outing out of Hiroki Kuroda. The right-hander didn't do much to help those hopes early, finding himself on the ropes immediately in a 33-pitch first, highlighted by Stephen Drew's two-run double and a Daniel Nava RBI single.
"As a starter, I think my responsibility is to go at least six or seven innings," Kuroda said through an interpreter. "That's what I'm telling myself to do."
Girardi noted that he had lefty Mike Zagurski, he of the 15.00 big league ERA this year with the Pirates, warming on three occasions. But Kuroda improbably settled in, retiring 12 of the last 14 batters he faced.
Robinson Cano led the Yankees' charge back, knocking hits in his four at-bats, including a bunt double down the third-base line against the shift in the first inning and a game-tying two-run double off reliever Craig Breslow in the seventh inning.
"There's no give-up in this team," Girardi said. "We were able to come back where it looked like we might get blown out early. We've got to continue to do those things."
Brendan Ryan hit his first homer in a New York uniform, a solo shot that cleared the Green Monster in the third inning, and Lyle Overbay lifted a sixth-inning sacrifice fly as the Yankees showed better swings late against Boston starter John Lackey, who allowed four runs and seven hits in 6 1/3 innings.
"I think we're in a good place," Alex Rodriguez said. "I think tonight was fun. Lackey had really good stuff. We worked some deep counts, got some big hits, tied the game and I thought we had a good chance. They just had one more big hit than we did. No big deal."
Kuroda had to pitch out of trouble in the second and third innings, but he was able to offer a gritty six-plus inning outing. Shane Victorino chased Kuroda in the seventh with a well-hit grounder that eluded third baseman Eduardo Nunez for a leadoff single.
"It's a tough play," Girardi said. "It's a play he can make, but it's a tough play."
Cesar Cabral was summoned in a spot where Girardi would have loved to use a healthy Logan, and the rookie left-hander gummed up the works by drilling David Ortiz on the right elbow.
Claiborne had allowed six runs and seven hits over a pair of appearances spanning two-thirds of an inning against the Red Sox on Sept. 6 and 7 in New York. His chances for redemption grew more difficult when he walked Jonny Gomes on five pitches to load the bases.
Claiborne struck out Nava on a changeup, but the right-hander left a fastball up to the switch-hitting Saltalamacchia, who sent the ball soaring over the Red Sox's bullpen into the bleachers.
"I'm going to be out there supporting my teammates, and I know they're going to support me as well," Claiborne said. "I know I'm going to have to get the ball again at some point, and when I do, I'm going to be ready."
Bryan Hoch is a reporter for MLB.com. Follow him on Twitter @bryanhoch and read his MLBlog, Bombers Beat. This story was not subject to the approval of Major League Baseball or its clubs.