Wilson earns victory in first appearance vs. Giants
Wilson earns victory in first appearance vs. Giants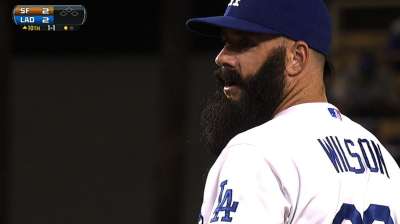 LOS ANGELES -- Facing the Giants for the first time since he signed with the Dodgers, Brian Wilson earned the win Thursday night in relief.
Wilson entered in the 10th inning with the game knotted at 2. The former Giants closer worked around a one-out walk to complete a scoreless inning. Adrian Gonzalez delivered a walk-off single in the bottom of the frame to give the Dodgers a 3-2 win.
Despite the victory, Wilson did not answer questions after the game.
"I didn't do anything," Wilson said as he walked past reporters on his way out of the clubhouse.
Wilson, who pitched for San Francisco from 2006-12, faced former teammates Marco Scutaro, Brandon Belt, Hunter Pence and Buster Posey.
"It was fun," said Posey, who was Wilson's batterymate with the Giants. "You look forward to challenges against good pitchers and he's one of them. Once the at-bat started, it felt like a normal at-bat."
Signed by the Dodgers at the end of July as a free agent, Wilson is 2-1 with a 1.17 ERA in 11 appearances. He had Tommy John surgery for the second time in his career last April and was non-tendered by the Giants last winter.
Austin Laymance is an associate reporter for MLB.com. Ken Gurnick is a reporter for MLB.com. This story was not subject to the approval of Major League Baseball or its clubs.