Official scorer gives Mo win, not save
Official scorer gives Mo win, not save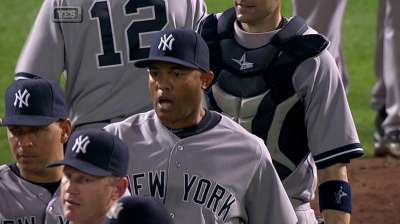 BALTIMORE -- All-time saves leader Mariano Rivera entered to protect a ninth-inning lead in his final regular-season appearance at Camden Yards on Thursday night, but due to a scoring quirk, the Yankees closer was credited with the victory instead of a save -- the fourth time it's happened in the past 25 years.
Official scorer Mark Jacobson invoked Rule 10.17 (c) to not give a victory to Yankees reliever David Robertson in New York's 6-5 win over the Orioles, ruling that Robertson's eighth-inning appearance had been "ineffective and brief." Thus, Rivera remains tied with Baltimore's Jim Johnson for the American League lead with 43 saves.
"That's what I heard," Rivera said with a smile. "I'm fine with that. We won."
Robertson allowed four hits in the bottom of the eighth, including a game-tying three-run homer to Danny Valencia. Brendan Ryan scored on a wild pitch in the top of the ninth, giving the Yankees a 6-5 lead. Instead of Robertson, the pitcher of record became Rivera, who pitched a perfect ninth.
Told of the scoring decision, manager Joe Girardi said he believed the scorer had made "a mistake." It was Rivera's sixth victory of the season against two losses, and he has 651 career regular-season saves.
The full Rule 10.17 (c) is as follows:
"The official scorer shall not credit as the winning pitcher a relief pitcher who is ineffective in a brief appearance, when at least one succeeding relief pitcher pitches effectively in helping his team maintain its lead. In such a case, the official scorer shall credit as the winning pitcher the succeeding relief pitcher who was most effective, in the judgment of the official scorer."
The rule book continues with a guideline:
"Rule 10.17(c) Comment: The official scorer generally should, but is not required to, consider the appearance of a relief pitcher to be ineffective and brief if such relief pitcher pitches less than one inning and allows two or more earned runs to score (even if such runs are charged to a previous pitcher)."
In an odd twist, the last time this occurred was also at Camden Yards.
In a July 27, 2012, contest between the A's and Orioles, Ryan Cook gave up the tying run and three hits before the A's rallied for six runs in the top of the ninth, putting Cook in line for a win he wouldn't receive. Instead, Jerry Blevins, who pitched a scoreless bottom of the ninth, was credited with the victory.
Bryan Hoch is a reporter for MLB.com. Follow him on Twitter @bryanhoch and read his MLBlog, Bombers Beat. This story was not subject to the approval of Major League Baseball or its clubs.