Phils in command vs. Padres, but not Halladay
Phils in command vs. Padres, but not Halladay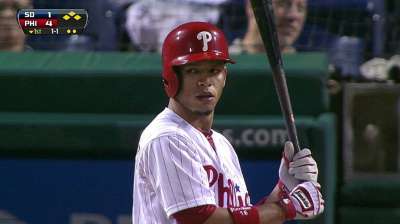 PHILADELPHIA -- Roy Halladay had an ice pack strapped to his right shoulder as he sorted through a few things in his locker late Thursday night at Citizens Bank Park.
Carlos Ruiz, who has caught some of Halladay's finest moments with the Phillies, including a perfect game in the regular season and a no-hitter in the postseason in 2010, walked across the clubhouse and pulled up a chair to talk. They conversed quietly for a few minutes before Ruiz disappeared to a back room.
"It's important for me to work on the things I need to work on, but also focus on the things that are good," Halladay said following a 10-5 victory over the Padres. "Philly isn't an easy place to do that. You guys are pretty tough. You have to be pretty mentally strong and block that out and go out there with confidence and trust."
Halladay allowed four hits, five runs, five walks, one hit batter and struck out six in 4 1/3 innings. He walked four consecutive batters in the fifth inning to chase him from the game. He is 1-0 with a 5.06 ERA in four starts since he rejoined the rotation last month. In 21 1/3 innings, he has allowed 18 hits, 13 runs (12 earned runs), 14 walks and five hit batters with 14 strikeouts.
Halladay has said it will take time to return to form, but the Phillies don't have much time to decide if they want to bring him back next season. If everything remains on schedule, he has three more starts before he becomes a free agent following the season.
"Oh, I'm going to pitch," Halladay said about 2014. "I'm going to pitch. Where, I don't know. I'd love to do it here. But if they don't feel like I'm the right guy for them, then I understand. I want to pitch. I have things that I want to prove to myself and things that I want to accomplish. I don't want to be a guy that gets knocked down and stays down. I want to get back up and fight and that's what a lot of this has been about. I felt like I got knocked down and this is my chance to stand up and keep fighting. You keep getting knocked down, you keep standing back up."
Outsiders who watch Halladay might see a guy coming off shoulder surgery who turns 37 in May with a drop in velocity and command. He looks at himself and sees somebody who returned to the mound in record time, which means he has room to improve.
"It's tough and obviously you're under the microscope right now and no matter what you do the negatives are going to be brought to the forefront," Halladay said. "Me personally, I'm trying to focus on the positives and let you guys worry about the negatives.
"In all honesty, I'm proud of the fact that I've made it back. A lot of guys my age could be at home, not pitching, could never pitch again. I feel like I beat some of those odds and that's what I'm looking at and am trying to take the positives. I woke up this morning and it was like Christmas morning, getting a chance to pitch again. After sitting out and watching the team and not being a part of it, it's a completely different thrill to be able to go out there and pitch now. I want to do a better job for us."
In the fifth, Halladay walked Will Venable, Alexi Amarista and Jedd Gyorko to load the bases. He then walked Chase Headley on nine pitches to make it 7-2. Tommy Medica hit a slow roller near the mound. Halladay fielded the ball, but it slipped out of his hand as it sailed past Phillies first baseman Kevin Frandsen.
Two runs scored to make it 7-4.
Phillies interim manager Ryne Sandberg decided to pull him at that point.
Halladay, who said he inexplicably lost strength in his lower body, was visibly upset with himself.
"He just seemed to lose control of the strike zone," Sandberg said. "But the perception is that he is healthy and he'll gain from this. He'll gain strength and really feel the difference after the offseason going into next year."
Fortunately for the Phillies, they took advantage of the Padres' pitching problems. Right-hander Tyson Ross lasted just two-thirds of an inning, allowing five hits, six runs and two walks to hand the Phillies a 6-1 lead.
Cesar Hernandez and Carlos Ruiz each had three hits, with Ruiz driving in three runs. Hernandez and Chase Utley each knocked in two runs.
"It's hard to be patient," Halladay said. "You go from not knowing if you're going to pitch again to getting back and then as soon as you're back you expect to dominate. It's just not the way it works. I have to be patient with that.
"I understand there's doubt. There's doubt any time you have surgery. I feel like in a lot of ways I beat some odds. I know it's hard for people to see that. They look at you as having a certain career, and it could be two weeks after surgery and they expect you to be there. I understand it, and that's fine. I'm going to do the best I can to pitch for our team and do the best I can.
I'm not worried about next year. I'm trying to do the best I can to fulfill my contract here. That's what I was trying to do before. I want to play, and you get criticized for pitching hurt and wanting to be out there for your team and criticize for trying to come back and do the right thing, that's tough to swallow. But I believe I'm mentally strong enough to do that."
Todd Zolecki is a reporter for MLB.com. This story was not subject to the approval of Major League Baseball or its clubs.