Reyes' offense not enough to go around in finale
Reyes' offense not enough to go around in finale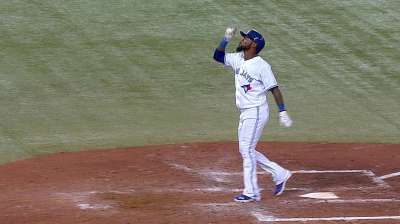 TORONTO -- The Blue Jays are expected to have at least a couple of openings in next year's starting rotation, but so far J.A. Happ has struggled to prove he should be guaranteed one of the spots.
Toronto's left-hander essentially began auditioning for a job in next year's starting five when he returned from a head contusion and severe left knee injury at the beginning of August. It has been a struggle ever since, and time is starting to run out.
Happ's rough stretch continued Thursday night as he was roughed up for four runs over 4 1/3 innings to overshadow a perfect night at the plate by Jose Reyes in a 4-3 loss to the Angels at Rogers Centre.
"As far as my delivery and everything today, I tried to be a little more athletic feeling and let it come natural," said Happ, who is now 4-6 with a 5.28 ERA. "Going out there to start the game I thought it was going to go really well. I just need to try and repeat that feeling, and hopefully the results will be there next time."
Happ entered this year's Spring Training without a job despite having six previous seasons of experience in the big leagues under his belt. Following the offseason acquisitions of R.A. Dickey, Mark Buehrle and Josh Johnson, it appeared as though Happ was headed for Triple-A Buffalo.
As a sign of faith, the Blue Jays still decided to sign Happ to a two-year contract extension. But his standing within the organization would soon change after left-hander Ricky Romero struggled and ultimately lost the No. 5 starter's job.
That allowed Happ to break camp but not before weeks of constant questions about the uncertainty of his role. That is something everyone would like to avoid next year, but to do so Happ will need to finish the 2013 campaign on a positive note. Otherwise the questions and concerns will be even more prevalent next season.
So far it has not gone according to plan, as Happ has pitched more than 5 2/3 innings in a game just once over eight starts since his return with an ERA of 5.58.
"I'm just trying to prove to myself more than anything," Happ said when asked about proving himself to others before next spring. "We have egos, you want to have success and you want to keep the team in the game and you want to have respect. I'm thinking about the team more than I'm thinking about anybody else analyzing me. I hope to go out and finish strong, that's for sure."
Happ did begin Thursday's outing on a positive note as he recorded a three-up, three-down first inning only to experience trouble throughout the rest of his outing. He allowed one run in each inning from the second until he was pulled with one out in the fifth. It marked the third time in Happ's past four starts that he failed to make it past the fifth.
The biggest blows against Happ on Thursday night included a fourth-inning solo homer by Kole Calhoun to center field and an RBI double by Mike Trout in the fifth. Happ was charged with all four runs on six hits while walking two and striking out six and throwing 54 of his 87 pitches for strikes.
To make matters even more frustrating, the Blue Jays had taken the lead on two separate occasions only to see it evaporate during the following frame. It was an ongoing problem against the Angels, and ultimately the lack of a shutdown inning was the main reason behind a three-game series sweep by Los Angeles.
"That's what kills you; that's a huge part of baseball," Blue Jays manager John Gibbons said of not getting a shutdown inning. "We're not throwing out our top-notch lineup right now offensively, so we're scratching for runs, we're not going to get a ton of them. So that's when the pitchers and starters got to step up … and find a way to get a shutdown inning, and we haven't been able to do that the last two nights."
Reyes led the way on offense with a 4-for-4 night, including a homer in the third inning and two doubles to go with a walk. It marked Reyes' fifth multihit game in September and his second with at least three hits as he continues to finish the season on a strong note.
Moises Sierra also had two doubles, and he now has 10 this month, which is tied with Washington's Jayson Werth for most in the Major Leagues. Thirteen of Sierra's past 19 hits have gone for extra bases, and his average now sits at .322 in 20 games since being called up from Triple-A Buffalo to replace the injured Jose Bautista.
Amid the strong games at the plate by Reyes and Sierra, the rest of the Blue Jays' lineup combined for just four hits. Angels right-handed starter Garrett Richards was charged with the three runs on nine hits while striking out four over 6 2/3 innings.
Toronto mounted a rally in the bottom of the ninth inning when Reyes doubled to lead off the frame, but Angels closer Ernesto Frieri escaped without any damage.
"Right now, we're playing good baseball -- timely hitting, great pitching," Angels first baseman Mark Trumbo said. "The reality is we still have a long way to go as far as making a playoff spot, but the next-best thing is playing great baseball."
With that, the Blue Jays were swept for the first time since a four-game series against the Yankees from Aug. 19-22. The three-game set vs. the Angels also ended Toronto's streak consecutive series wins at four, and the club will now look to regroup against American League East rival Baltimore on Friday night.
Gregor Chisholm is a reporter for MLB.com. Read his blog, North of the Border, and follow him on Twitter @gregorMLB. This story was not subject to the approval of Major League Baseball or its clubs.