Sweep adds to Angels' September surge
Sweep adds to Angels' September surge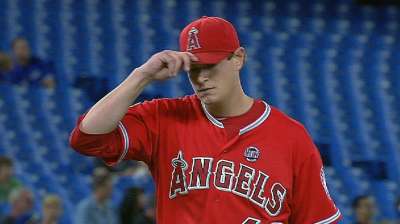 TORONTO -- It's too bad this 2013 season can't extend past 162 games.
Perhaps then the Angels could really make a playoff push.
It is now, midway through the regular season's final month and with a sizeable gap still remaining, that this team is finally starting to click on all cylinders. The starters are stepping up. The bullpen is shutting down games. And the lineup -- shorthanded as it might be -- is finding a way to produce.
"We're having fun," Angels starter Garrett Richards said. "When you're having fun, winning will take care of itself."
The Angels completed a three-game series sweep at Rogers Centre with a 4-3 win over the Blue Jays on Thursday night, thanks to 6 2/3 innings of three-run ball by Richards, seven outs by the bullpen and more timely hitting by the offense. It gave the Angels 15 wins in their last 20 games, locked up a sixth consecutive unbeaten series and moved their record to six games below .500 -- the closest it has been to the even mark since July 27.
In September -- without Howie Kendrick, Albert Pujols and Peter Bourjos, but with a much more effective Josh Hamilton -- they are averaging 5.4 runs a game while sporting a collective .301 batting average.
Since Aug. 23, the start of the team's 15-5 stretch, the starting rotation sports a 3.48 ERA.
And during that span, Angels relievers have given up just 12 earned runs in 56 1/3 innings, good for a 1.92 ERA.
"Right now we're playing great baseball -- timely hitting, great pitching," said Mark Trumbo, whose club also leads the American League with a .326 average with runners in scoring position during that 20-game stretch. "The reality is we still have a long way to go as far as making a playoff spot, but the next-best thing is playing great baseball."
The Angels (70-76) chased J.A. Happ after only 4 1/3 innings, plating four runs, notching six hits and drawing two walks. In the second, Grant Green got them on the board with a two-out RBI single. In the third, Erick Aybar tagged up to third on Trumbo's fly ball to center, then sprinted home when the throw ricocheted off Brett Lawrie's glove. In the fourth, Kole Calhoun ripped a solo homer to right-center field, giving him an RBI in 15 of his last 16 starts. And in the fifth, Mike Trout put the Angels ahead for good with an RBI double to left-center field.
Richards was hit hard early Thursday, giving up three runs on six hits -- one a homer by Jose Reyes -- in the first three innings. But the 25-year-old right-hander quickly settled down, retiring 11 of 14 batters and putting his ERA at 3.08 in 10 starts since taking Joe Blanton's spot in the rotation.
Nursing a one-run lead with two outs in the seventh, Richards gave up a double to Reyes and was taken out of the game. But after issuing a walk to Munenori Kawasaki, Michael Kohn struck out Brett Lawrie. Two innings later, with two outs and two on in the bottom of the ninth, Lawrie struck out again, this time on a 95-mph fastball from Ernesto Frieri to end the game.
"The thing that has bit us the last two nights, two times last night and two times again tonight, we take the lead and we don't get the shutdown inning and we give it right back," said Blue Jays manager John Gibbons, whose club has lost seven of its last eight against the Angels. "That's what kills you. That's a huge part of baseball."
The Angels finally are getting that, even if it is a little too late in the year.
When they finished Thursday's game, they still had a deficit of 9 1/2 games for the second Wild Card spot in the AL and needed to jump five teams to make an improbable push.
But only good things come from winning games.
"It's important to finish strong," said Frieri, who has a 0.61 ERA and eight saves since Aug. 10. "We know that it's very hard to get to the playoffs, but it's very important because we're going into the offseason with a good idea of what we need to get better at. And then, when we get to Spring Training, you pretty much know what needs to be done.
"We're playing beautiful baseball lately, and we're doing the little things. We're advancing runners, we're scoring runs with two outs -- something that we weren't doing -- and when we have a lead, the pitching is holding it."
Alden Gonzalez is a reporter for MLB.com. Read his blog, Gonzo and "The Show", and follow him on Twitter @Alden_Gonzalez. This story was not subject to the approval of Major League Baseball or its clubs.