Giants reinstate Affeldt off disabled list
Giants reinstate Affeldt off disabled list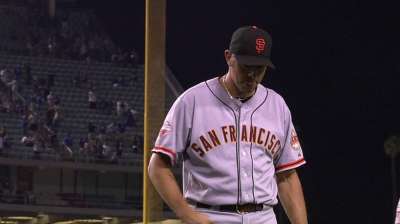 LOS ANGELES -- The Giants officially reinstated left-hander Jeremy Affeldt from the 15-day disabled list on Thursday, expanding their pitching staff to 18.
The Giants put Affeldt to the test in the 10th inning of Thursday night's 3-2 loss to the Dodgers. Affeldt allowed two singles, including Adrian Gonzalez's walk-off base hit to drive in Carl Crawford.
Manager Bruce Bochy indicated that Affeldt, who was shelved with a strained left groin, probably wouldn't initially pitch in the stressful situations he's accustomed to handling. However, he was placed in a big spot Thursday as the Giants were running out of options.
Affeldt pitched 10 1/3 scoreless innings spanning 10 appearances last postseason, which helped earn him a three-year, $18 million contract extension beginning this year. He was 0-3 with a 5.93 ERA and 0-for-3 in save opportunities in 16 games before being sidelined. Overall this year, Affeldt was 1-4 with a 3.51 ERA in 38 appearances.
Chris Haft is a reporter for MLB.com. This story was not subject to the approval of Major League Baseball or its clubs.