Bumgarner's WHIP puts him in rare company
Bumgarner's WHIP puts him in rare company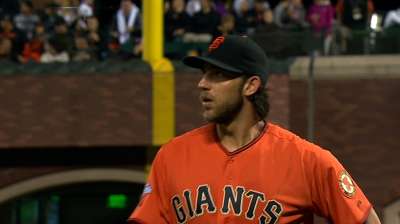 LOS ANGELES -- Madison Bumgarner has progressed to the point where he's being linked to a Hall of Famer.
Bumgarner enters his Friday start against the Dodgers with a 1.030 WHIP (average walks and hits per inning). That happens to be the lowest by a Giants left-hander qualifying for the ERA title (minimum: 162 innings) since Carl Hubbell, who's enshrined in Cooperstown, led the National League with a 0.982 WHIP in 1933.
Bumgarner also approached Hubbell last season, posting a 1.114 WHIP while finishing 16-11 with a 3.37 ERA. The only other San Francisco-era Giants pitcher to challenge Hubbell in WHIP was Atlee Hammaker, who had a league-best 1.039 figure in 1983.
You can win a trivia contest by naming who currently owns the third-best WHIP by a San Francisco left-hander: John Cumberland, who checked in at 1.124 in 1971.
Somewhat surprisingly, Mike McCormick's 1967 Cy Young Award season for the Giants (22-10, 2.85 ERA) produced a solid, but not remarkable 1.147 WHIP. Johnny Antonelli actually had a better WHIP (1.145) during a 19-10 season in 1959.
Chris Haft is a reporter for MLB.com. This story was not subject to the approval of Major League Baseball or its clubs.