Hart's future with Crew uncertain as season winds down
Hart's future with Crew uncertain as season winds down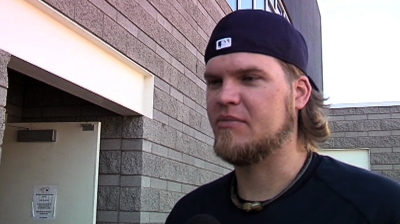 ST. LOUIS -- Brewers officials said Thursday that Corey Hart is recovering well from his latest knee surgery and is expected to visit Miller Park next week during the season's final homestand.
Will it be his final visit as a Brewer? That remains to be seen.
"We haven't even begun to consider it yet," assistant general manager Gord Ash said. "As we all know, there's plenty of time."
Hart, a free agent at season's end, will miss the entire year after undergoing surgery on his right knee in January and his left knee in July. He will visit early next week in Los Angeles with Dr. Neal ElAttrache, the surgeon who did the second repair, before traveling on to Milwaukee to reunite with Brewers teammates. The Brewers will take advantage of that visit to conduct a year-end physical.
Considering Hart's positive progress so far, Brewers head athletic trainer Dan Wright confirmed that Hart should be baseball-ready in time for 2014 Spring Training.
"Back two weeks post-surgery for the left knee, he said, 'The right knee feels to the point where I could play on it right now,'" Wright said. "Since we had to take time to do the left knee surgery, we've throttled back on some of the other things, just because you can't do the full activity. I can tell you he is progressing very well."
"He is repaired," Ash said. "[Will he be] 100 percent? We hope so."
Brewers manager Ron Roenicke checked in with Hart this week and reported that his spirits are high.
"He goes to therapy five times a week, comes home and works out at home," Roenicke said. "He's just having an appointment where he thinks he'll be able to run. He said the [left] knee is coming along way faster than the first one. … It's hard. Rehab, it's brutal. It's not so much the physical load, it's just the mental, knowing these guys are playing the whole season and you're not there."
First base has been the Brewers' most tumultuous position all year, with Hart, Mat Gamel (ACL surgery) and Taylor Green (hip surgery) all lost before Opening Day. Shortstop Alex Gonzalez started on Opening Day, but he was released in early June when the Brewers acquired power-hitting Juan Francisco, who has been at best strikeout-prone and at worst a bust. He had seven hits and 27 strikeouts in his last 50 at-bats entering Thursday, when Francisco was not in the starting lineup against Cardinals right-hander Joe Kelly.
Prospect Hunter Morris will be added to the 40-man roster this winter, but he did not distinguish himself enough at Triple-A Nashville to warrant a September callup.
All of those issues could create an opening for the return of Hart, the Brewers' longest-tenured player, having been drafted as a first baseman in 2000 and played most of his Milwaukee tenure as a right fielder. He moved back to first base after Gamel was injured in 2012 and hit 30 home runs.
The Brewers are very unlikely to extend Hart a qualifying offer, because he would accept and earn upwards of $14 million in 2014. Instead, if the club is convinced of Hart's health, a more likely scenario has the sides discussing an incentive-laden deal with a smaller guarantee. Hart will turn 32 in March.
Asked about the need to figure out first base, Ash said, "That is, I think, obvious."
Adam McCalvy is a reporter for MLB.com. Read his blog, Brew Beat, and follow him on Twitter at @AdamMcCalvy. This story was not subject to the approval of Major League Baseball or its clubs.