Gennett making case for next year's second-base job
Gennett making case for next year's second-base job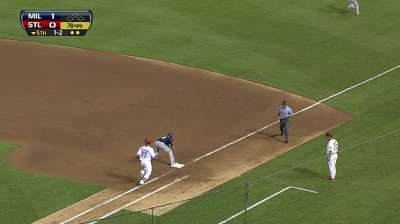 ST. LOUIS -- While everyone around Scooter Gennett wonders how the Brewers will solve second base next season -- Rickie Weeks' experience and $11 million salary vs. Gennett's raw ability -- the 23-year-old is trying to simply focus on today.
"That's one of the things I've learned the last three or four years," Gennett said Thursday, when he batted second for the first time in his budding career. "Once you start trying to control things that you can't, that's when things start going downhill."
Gennett entered Thursday's series finale in St. Louis batting .402 and slugging .629 since Aug. 9, when he was recalled from Triple-A to replace an injured Weeks. That is the third-highest slugging percentage in Major League Baseball over that span.
Weeks, meanwhile, is finished for the season after undergoing surgery for a torn left hamstring. He batted .209/.306/.357 in 350 at-bats.
"I think everyone was convinced [Gennett could hit in the Major Leagues], because he's hit all along, but it was, 'How much has his defense improved?'" Brewers assistant GM Gord Ash said. "It's been way above average, the range that he shows and the arm strength he has."
Weeks is expected to be ready for the start of Spring Training. Both Gennett and Weeks are considered limited to second base.
"It's something that obviously will get resolved in some way," Gennett said. "As long as I know at one point there will be a decision, that's all I need to know. I need to focus on that, control what I can control and do my best job. …
"My big thing is I won't have any regrets. If I'm thinking about things I can't control, I don't want 10 years from now regretting trying to figure what's going to happen for next year. ... I just want to play hard, and I think the rest will take care of itself. I'm just really excited to go to Spring Training next year. I think it will be a different situation than this year."
Adam McCalvy is a reporter for MLB.com. Read his blog, Brew Beat, and follow him on Twitter at @AdamMcCalvy. This story was not subject to the approval of Major League Baseball or its clubs.